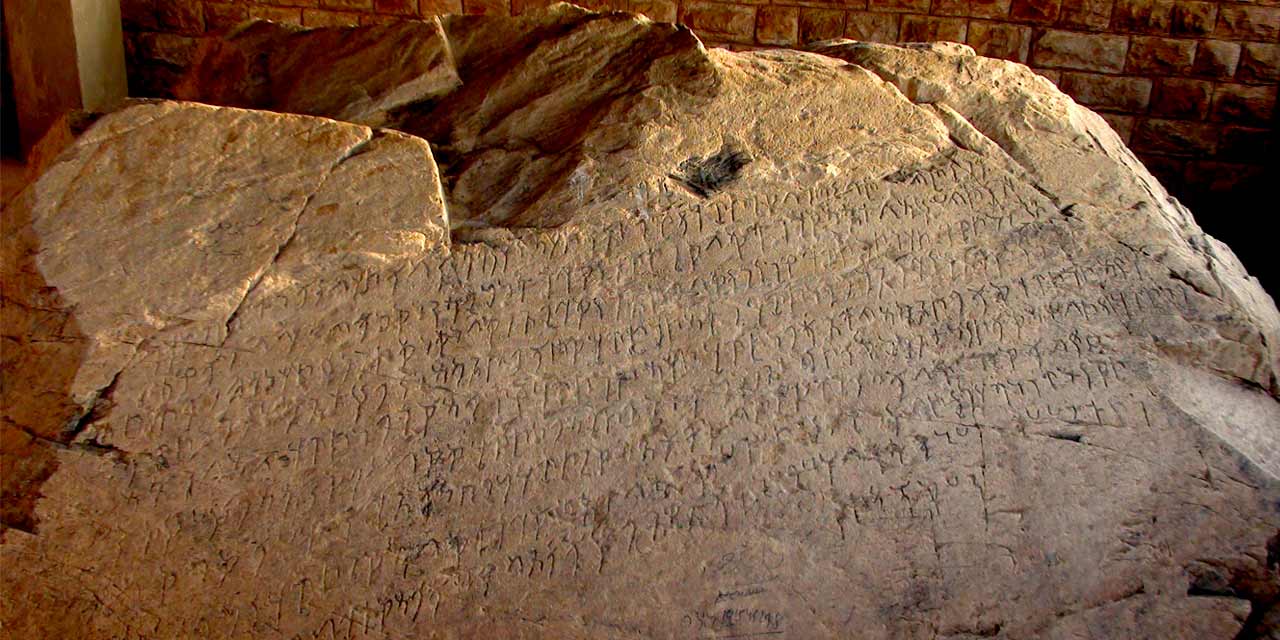 Ashokan Rock Edict Bhubaneswar Entry Fee
Ashokan Rock Edict Bhubaneswar Phone
N/A
---
Rating:

| 4/5 stars
Based on total 54 reviews
Ashokan Rock Edict Bhubaneswar Address: 8 Km from Bhubaneshwar, Dhauli Rd, Dhauli, Bhubaneswar, Odisha, 752104, India
Bhubaneswar Tour Packages
Ashokan Rock Edict Bhubaneswar Timings
| Day | Timing |
| --- | --- |
| Monday | 9:00 am – 5:00 pm |
| Tuesday | 9:00 am – 5:00 pm |
| Wedesday | 9:00 am – 5:00 pm |
| Thursday | 9:00 am – 5:00 pm |
| Friday | 9:00 am – 5:00 pm |
| Saturday | 9:00 am – 5:00 pm |
| Sunday | 9:00 am – 5:00 pm |
Links:
Website
|
Map
---
Ashokan Rock Edict is one of the most popular tourist attractions in the city of Bhubaneswar, Odisha. It has a deep-rooted connection with the Kalinga War, which was fought between the Kalinga kingdom and the Mauryan kingdom - led by Emperor Ashoka, from 262 BC to 261 BC.
The war was fought on the Dhauli Hills, which lie on the left bank of the Daya River, a tributary of the Mahanadi River. The site, where the famous Ashokan inscriptions have been carved out, is located at the foot of the Dhauli Hills. Currently, it is being preserved by the Archaeological Survey of India (ASI).
There are 33 separate inscriptions at the site that are engraved on rocks, cave walls and pillars. Each of these inscriptions carry the message of Dhamma, which means 'good conduct', 'right behavior' and 'decency toward others'. Another highlight of the site is the rock carved elephant protruding from a rock face; the carving has been done in such a manner that it seems that the elephant is emerging out from the rock.
One of the main rocks has been kept behind a glass wall to preserve it and at the same time, give tourists and architecture lovers the chance to witness this historical structure up close. There is a beautiful garden in the complex as well.
History of Ashokan Rock Edict Bhubaneswar
Emperor Ashoka in his quest to expand his empire attacked the kingdom of Kalinga (present day Odisha) in 262 BC. This led to the infamous Kalinga War, in which more than 2,00,000 soldiers from either side lost their lives or were seriously injured, turning the Daya River entirely red with blood. This entire episode shook the conscience of Emperor Ashoka and made him guilt conscious. It was this war that changed the course of his path and led him to the peace-loving religion of Buddhism.
To spread awareness about the ideologies of Buddhism, he commissioned inscriptions of his declarations, messages and instructions on natural rock faces and stone pillars across the length and breadth of the country. He also sent his missionaries to countries such as Sri Lanka, China, Thailand and Greece to spread the principles of Buddhism. At Dhauli, Ashoka, chose a rock close to the battleground and commissioned inscriptions of his declarations.
However, these inscriptions were lost with time until the 19th century, when a man named James Prinsep, an administrator of the East India Company, began searching for it. He was the Head of the Asiatic Society of Bengal, and had great interest in the pre-Islamic era of India. Prinsep was the first one to have deciphered the Ashoka inscriptions at Sanchi Stupa. He, along with another British officer Markham Kittoe, was instrumental in founding the lost Ashokan edicts at Dhauli.
Architecture of Ashokan Rock Edict Bhubaneswar
The Ashokan Rock Edict at Dhauli is a protected site comprising a modern structure that facilitates viewing of the inscriptions from close quarters. The rock edicts found at Dhauli are I-X and XIV; whereas edicts XI-XIII are missing. These have been replaced by special edicts called Kalinga Edict I and II.
The Ashokan edicts are comprised of:
Minor Pillar Edicts
Major Pillar Edicts
Major Rock Edicts
Minor Rock Edicts
The rock carved elephant at the site is an important topic of discussion for historians. Many interpret it as a symbolic representation of Lord Buddha's birth while others see it as the depiction of Emperor Ashoka's transformation from a violent king to a peaceful Buddhist. This carving is considered quite crude compared to other Mauryan animal carvings, which can be witnessed at places like Sarnath. However, there is no doubt that this carving is unique and hardly any such sculpture exists in the world.
Image Gallery of Ashokan Rock Edict Bhubaneswar
Things to do in Ashokan Rock Edict Bhubaneswar
Exploring and witnessing the architectural brilliance of Ashokan Rock Edict will intrigue the tourists to the core at Dhauli. However, after their exploration at the site, they can move to other important attractions close by like the Dhauli Shanti Stupa or Peace Pagoda and Dhabaleshwar Temple.
Bhubaneswar Ashokan Rock Edict Entry fee and Timings
No entry fee is charged from tourists to visit the Ashokan Rock Edict. It remains open on all days of the week from 9 am till 5 pm.
How to reach Ashokan Rock Edict Bhubaneswar, Odisha
Traveling to Ashokan Rock Edict from any part of Bhubaneswar is not a hassle with easy availability of private cabs, auto rickshaws and local buses. To reach the city, tourists can take flights to the Biju Patnaik International Airport, which lies about 11 km away from the Ashokan Rock Edict site.
Alternatively, they can take trains to the Bhubaneswar Railway Station, which is also approximately 11 km from here. Those coming by bus to the city need to get down at OSRTC Bus Depot or Baramunda Bus Stand to catch local buses, cabs or auto rickshaw to Ashokan Rock Edict.
---
Explore the popular sightseeing places of Bhubaneswar by booking a Bhubaneswar tour package with us. At Bhubaneswar Tourism, a division of Holidays DNA, we offer these packages at competitive rates and take care of everything including accommodation and sightseeing transfers, so that you can have a great time during your trip. We also provide you with the list of top car rental companies in Bhubaneswar for a hassle free commutation within the city. Please fill the Contact Us form to get in touch with us.
Location Map for Ashokan Rock Edict Bhubaneswar