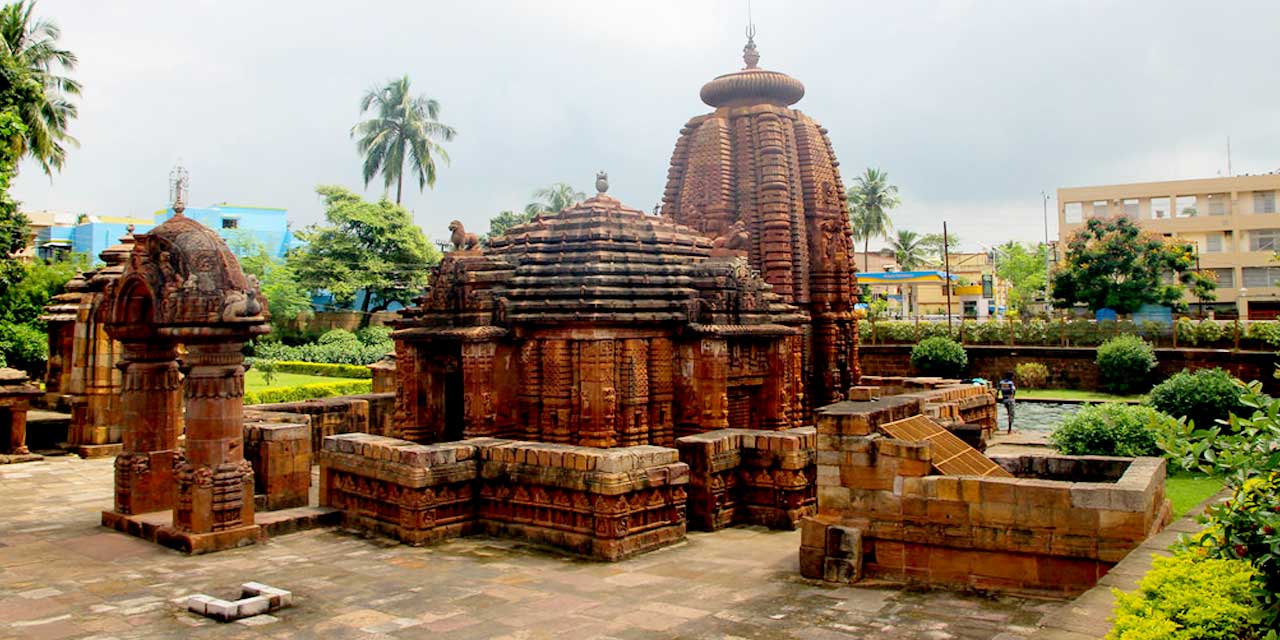 Mukteswara Temple Bhubaneswar Entry Fee
Mukteswara Temple Bhubaneswar Phone
---
Rating:

| 4/5 stars
Based on total 58 reviews
Mukteswara Temple Bhubaneswar Address: Kedar Gouri Ln, Old Town, Bhubaneswar, Odisha, 751002, India
Bhubaneswar Tour Packages
Mukteswara Temple Bhubaneswar Timings
| Day | Timing |
| --- | --- |
| Monday | 6:30 am – 7:30 pm |
| Tuesday | 6:30 am – 7:30 pm |
| Wedesday | 6:30 am – 7:30 pm |
| Thursday | 6:30 am – 7:30 pm |
| Friday | 6:30 am – 7:30 pm |
| Saturday | 6:30 am – 7:30 pm |
| Sunday | 6:30 am – 7:30 pm |
Links:
Website
|
Map
---
The revered Mukteswara Temple is a must-visit tourist attraction in Bhubaneswar. Built in the 10th Century, this shrine is considered as a 'Gem of Odisha' for its splendid architecture, exquisite sculpture work and intricate carvings. Dedicated to the Almighty Lord Shiva, this temple boasts of the Kalinga architectural style.
The Mukteswara Temple, Bhubaneswar lies adjacent to the Parasurameswara Temple, which is another masterpiece from that era. It is also situated close to another popular place of worship in the city – the Lingaraj Temple.
Entirely made out of red sandstone, this 35-feet temple is famous especially for its elaborately decorated arched-shaped gateway (locally known as Torana). The intricate and exquisite carvings on the arch is simply mesmerizing and is a testimony to the skilled craftsmanship of that period.
History of Mukteswara Temple in Bhubaneswar
According to the legends, this temple was built by King Yayati I of the Somavamshi Dynasty – a dynasty that is credited to have built various majestic shrines in Bhubaneswar, which is fondly called as the Temple City of India.
Architecture of Mukteswara Temple Bhubaneswar
The temple, built in Kalinga architectural style, has a height of approximately 35 feet. It is considered as a 'Gem of Odisha' for its elaborate architecture that comprises intricate carvings, diamond-shaped windows featuring lattice design and sculptures of characters from the popular tales of Panchatantra.
Surrounded by an octagonal compound wall featuring intricate carvings, the temple is believed to have been built with a somewhat new pattern that was a development from its predecessors, something that went on to be replicated in the architecture of temples in the city, built later.
The entrance to the temple has a spectacular arched-shaped gateway (Torana). It is among the few temples in the city that have been constructed in the Pitha Deula style, meaning the building has a square shape with the roof having a pyramid shape. This style is one of the distinct temple styles from Kalinga architecture, the others being Rekha Deula and Khakhara Deula.
The arched gateway, which shows unique influence of Buddhist architecture, is flanked by two pillars featuring carvings of smiling women wearing beads and ornaments. It is further decorated with sculptures featuring elaborate scrolls and female forms, along with carvings of peacock and monkeys.
The temple's 'vimana' has a square shape with a raised platform with pilasters on the façades. Its 'shikara', which is about 34 feet, is decorated with carvings of four 'natrajas' with 'kirthimukhas'. The inner sanctum of the temple has a doorway with an image of Ketu with three hooded snakes.
There is a tank called Marichi Kunda inside the temple premises towards the eastern side while a well can be found towards its south-west corner. As per legends, a dip in Marichi Kund can cure infertility in females. Besides the main temple, there are other additional shrines in the premises featuring Shiva Lingas.
Image Gallery of Mukteswara Temple Bhubaneswar
Things to do at Mukteswara Temple, Odisha
The magnificent architecture of the temple is its biggest draw. Hence, exploring its different sections and marveling at their architectural beauty is the best thing to do at this holy place, besides paying obeisance to the revered 'Shivlinga'.
Another major attraction of the temple that draws crowds in huge numbers is the Mukteswara Dance Festival, which is organized by Odisha Tourism, in the month of January every year. The festival was first held in 1984. However, it has been organized continuously since 2004. It is the celebration and showcase event of Odissi dance form, one of the oldest forms in India, to the world. Tourists wishing to attend this marquee event of the temple can book their tickets for Bhubaneswar for the month of January.
Odisha Mukteswara Temple Entry Fee and Timings
There is no entry fee to visit the Bhubaneswar Mukteswara Temple. Devotees can enter the temple as early as 6.30 am. The closing time of the shrine is 7.30 pm and it remains open on all days.
How to reach Mukteswara Temple Bhubaneswar, Odisha
The distance between the Biju Patnaik International Airport and the temple is around 4.5 km. It takes approximately 13 minutes to reach here by availing taxi and auto-rickshaw services. The Bhubaneswar airport is well connected to different cities of the country.
On the other hand, the Bhubaneswar Railway Station is about 4.4 km away from Mukteswara Temple and can be easily reached by taking an auto-rickshaw or taxi. Tourists can also hop onto Mo Bus - the local transport bus service - to reach this place with ease. The Bhubaneswar Railway Station is the main station of the city and receives trains from across the country, on a daily basis. For a hassle free trip, one can also book a private cab from top car rental companies in Bhubaneswar to reach the temple.
We at Bhubaneswar Tourism, a division of Holidays DNA, are here to help you cover all the must-visit places in Bhubaneswar with our all-inclusive Bhubaneswar tour packages. You can also get customization done as per your budget and other requirements. For more information on our holiday packages, please fill the Contact Us form. Our travel experts will get back to you shortly.
Location Map for Mukteswara Temple Bhubaneswar