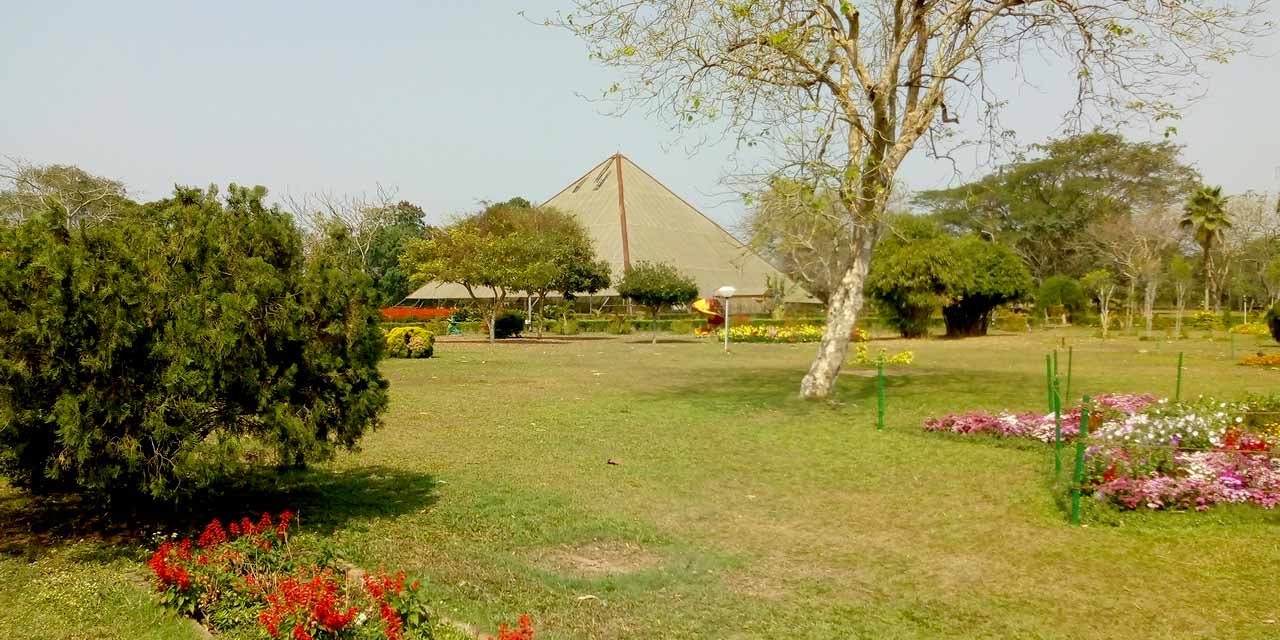 Ekamra Kanan Bhubaneswar Entry Fee
25 per person for Adults
10 per person for Children
50 Boating charges for Two seater Paddle boat (30 min)
100 Boating charges for Four seater Paddle boat (30 min)
Ekamra Kanan Bhubaneswar Phone
---
Rating:

| 4/5 stars
Based on total 75 reviews
Ekamra Kanan Bhubaneswar Address: RPRC Botanical Gardens, Bhubaneswar, Odisha, 751015, India
Bhubaneswar Tour Packages
Ekamra Kanan Bhubaneswar Timings
Day
Timing
Monday
8:00 am – 6:00 pm (Mar-Oct)
8:00 am – 5:00 pm (Nov-Feb)
Tuesday
8:00 am – 6:00 pm (Mar-Oct)
8:00 am – 5:00 pm (Nov-Feb)
Wedesday
8:00 am – 6:00 pm (Mar-Oct)
8:00 am – 5:00 pm (Nov-Feb)
Thursday
8:00 am – 6:00 pm (Mar-Oct)
8:00 am – 5:00 pm (Nov-Feb)
Friday
8:00 am – 6:00 pm (Mar-Oct)
8:00 am – 5:00 pm (Nov-Feb)
Saturday
8:00 am – 6:00 pm (Mar-Oct)
8:00 am – 5:00 pm (Nov-Feb)
Sunday
8:00 am – 6:00 pm (Mar-Oct)
8:00 am – 5:00 pm (Nov-Feb)
Links:
Website
|
Map
---
Ekamra Kanan is located in the capital city of Odisha – Bhubaneswar. A popular tourist attraction, this botanical park is spread over an area of 500 acres and is maintained by the Regional Plant Resource Centre (RPRC), Bhubaneswar. Ekamra Kanan is also known as the Cactus Garden as it is home to more than 1000 varieties of cactus plants.
The park is divided into different sections that include a small children's playing area, musical fountain, beautiful flower garden and a lake with a boating facility. The park certainly deserves a visit as it has something on offer for all age groups to explore and enjoy.
History of Ekamra Kanan Bhubaneswar
The Ekamra Kanan in Bhubaneswar was established in the year 1985 by RPRC. It was set up by the Government of Odisha as a research institute for research activities as well as preservation of plant biodiversity.
In association with the RPRC, Department of Horticulture and Odisha Tourism, a wonderful flower show is organized by the Plant Lovers Association of the city in the park each year in the month of January. During this month, a Plant Bazaar is also organized, where a wide variety of plant garden tools, plant saplings, pesticides and fertilizers are sold.
Architecture of Ekamra Kanan Bhubaneswar
The main part of Ekamra Kanan is the Cactus Garden, which sprawls over 100 acres of land. A huge pyramidal-shaped glass house has been built inside this area, where more than 1000 types of succulents and cactus plants are nurtured.
The lake inside the park is spread over 45 acres, where a boating facility has been put in place. Boating can be enjoyed here either in a four-seater or two-seater boat. During winters, a number of migratory birds are seen in the lake.
The attractive flower garden in the park houses a collection of 72 varied species of scented flower plants while the hibiscus garden has 52 species of hibiscus plants. The rose garden, on the other hand, houses more than 1000 species of rose plants.
There is a children's play area in the park, where children can play on slides and swings. There is a section in the park, where a small musical fountain has also been installed. Besides these, a walking track has also been built inside the park. It is used by locals for jogging and walking in the mornings and evenings at quite a nominal fee. The remaining portion of the park consists of a dense forest area.
Image Gallery of Ekamra Kanan Bhubaneswar
Things to do in Ekamra Kanan Bhubaneswar
Ekamra Kanan is an ideal place to sit and relax in a green and tranquil environment. From flower gardens to cactus gardens, there is a lot to see in this beautifully-maintained park. Besides boating, care has been taken for the children visiting the park as a small play area for them has been set up inside the premises.
After spending quality time at Ekamra Kanan Bhubaneswar, tourists can head to the famous Ekamra Haat, which is lined up with small shops that sell local handicraft products and different handloom items. Food stalls serving hot local delicacies can also be found in this small market.
Ekamra Kanan Bhubaneswar Timings and Entry fee
The entry fee for adults in the park is Rs 25 while for children between 3 and 10 years, the fee is Rs. 10. There is no fee for senior citizens above 60 years. The boating charges for two-seater and four-seater boats for 30 minutes are Rs. 50 and Rs. 100, respectively.
The park remains open for the public every day, except the Holi festival. The park timings from March till October are 8:00 am to 6:00 pm and from November to February, the timings are 8:00 am to 5:00 pm. General public are allowed to walk/jog in the park from 5:00 am to 7:00 am (March to October) and 5:30 am to 8:00 am (November to February).
How to reach Ekamra Kanan Bhubaneswar
Ekamra Kanan is one of the biggest and famous parks in the city and is situated at a prime location. Upon arriving in the city by train or flight, tourists can easily avail private cabs, auto rickshaws or local buses to reach the park.
The distance between Bhubaneswar Railway Station and Ekamra Kanan Park is approximately 7.2 km and it takes about 21 minutes to cover this distance while the Biju Patnaik International Airport is about 7.4 km away and takes about 18 minutes to reach the park. For a hassle free commutation, you can hire a private taxi from the list of top car rental companies in Bhubaneswar and visit all tourist attractions comfortably.
Things to keep in mind while visiting to Ekamra Kanan Bhubaneswar
Photography is allowed inside the park.
There are food stalls inside the premises.
The park complex also consists of small shops that sell local handicraft products.
Facilities like sitting benches, washroom and drinking water are also available inside.
---
If you are planning a trip to Bhubaneswar, then we at Bhubaneswar Tourism, a division of Holidays DNA, can be of great help to you. We offer all-inclusive Bhubaneswar tour packages that are designed to suit your budget and holiday requirements. We can also make changes to the itinerary as per your needs and include places to visit in Bhubaneswar as per your interest. So, what are you waiting for? Contact us now to know more about our services.
Location Map for Ekamra Kanan Bhubaneswar