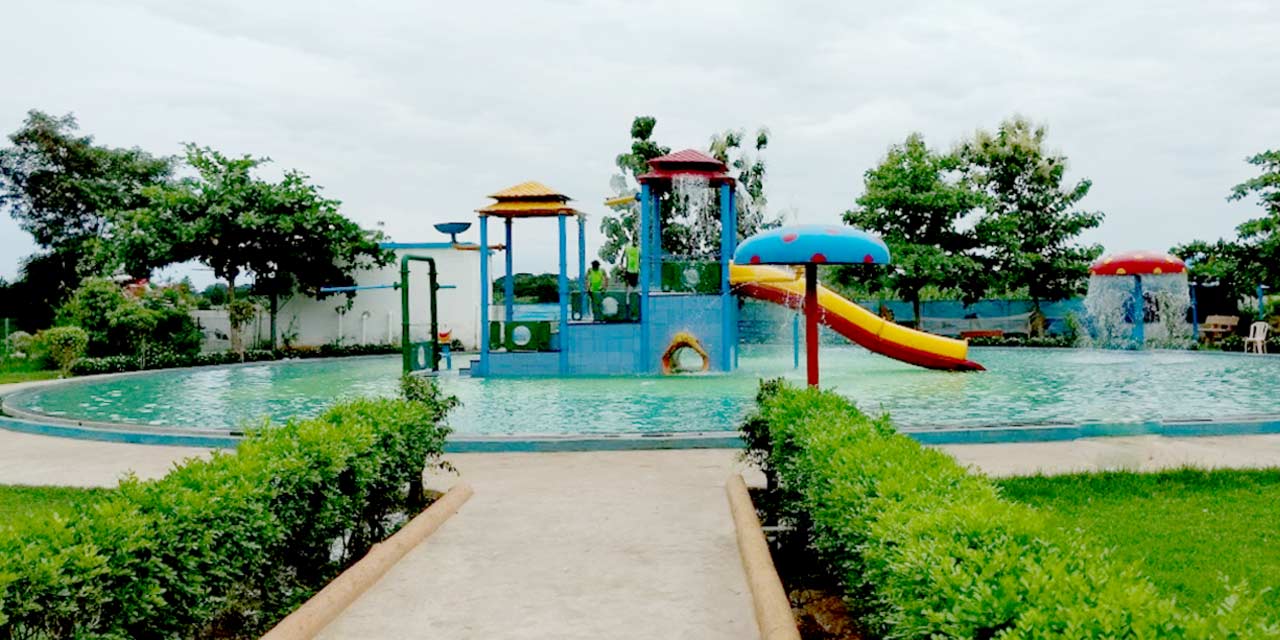 Ocean World Water Park Bhubaneswar Entry Fee
500 per person for Adults
400 per person for Children (5 - 12 yrs)
30 for Locker
50 for Costume
*Ticket price excludes refundable security fee of Rs. 50/-
Ocean World Water Park Bhubaneswar Phone
---
Rating:

| 4/5 stars
Based on total 55 reviews
Ocean World Water Park Bhubaneswar Address: Kurangagsasan, Fulnakahra, Gangeswar, Cuttack, Odisha, 754002, India
Bhubaneswar Tour Packages
Ocean World Water Park Bhubaneswar Timings
| Day | Timing |
| --- | --- |
| Monday | 10:00 am – 6:00 pm |
| Tuesday | 10:00 am – 6:00 pm |
| Wedesday | 10:00 am – 6:00 pm |
| Thursday | 10:00 am – 6:00 pm |
| Friday | 10:00 am – 6:00 pm |
| Saturday | 10:00 am – 6:00 pm |
| Sunday | 10:00 am – 6:00 pm |
Links:
Website
|
Map
---
Located in the outskirts of Bhubaneswar - about 20-25 km away - Ocean World Water Park is one of the biggest and popular water-themed parks in the state of Odisha. An ideal getaway for families and fun loving youngsters, the park has on offer some exciting water slides for all age groups, a landing pool, kid's pool, wave pool and a rain dance area. Tourists on a tour to the city should definitely visit this wonderful and exciting water park for a fun-filled day, sloshing and splashing in the water!
History of Ocean World Water Park Bhubaneswar
The Ocean World Water Park was made open to the public in April 2008. It was developed on the lines of the famous Aquatica Water Park in Kolkata and Water Kingdom in Mumbai. The park is owned by the Trishna Group, a real-estate firm.
Architecture of Ocean World Water Park in Bhubaneswar
Spread over a huge area, this water park has various water slides including Aqua Loop, Fish Pipe, Lazy River, Tunnel Ride and Log Flume, where both kids and adults can enjoy sliding down. Besides these, there is a Landing Pool, where most slides converge and a Wave Pool, where adults and kids can enjoy in groups.
There is a Kid's Pool inside the premises, where young children can be seen splashing and swimming; enjoying to the core of their hearts. Another interesting attraction in the park is the Rain Dance area, where both kids and adults dance under artificial rain showers.
In addition to the water-themed activities, there is an amusement park in the complex as well, where different dry rides can be enjoyed. There is also a banquet hall in the park, where birthday parties, get-togethers and other events are organized.
Image Gallery of Ocean World Water Park Bhubaneswar
Things to do at Ocean World Water Park, Bhubaneswar, Odisha
From water slides to fun rides and rain dance, there is so much to indulge in and enjoy at the Ocean World Water Park in Bhubaneswar. After spending quality time on the slides and the rides, most visitors head to the food court in the complex, where a range of mouth-watering delicacies including Indian and Chinese as well as snacks and juices are offered. You can also head to the in-house Ayurvedic massage center to receive therapeutic massages for a rejuvenating experience.
Besides the Ocean World Water Park, there are some other such attractions that tourists will certainly love to visit during their stay in the city. These include Nandankanan Zoological Park, Biju Patnaik Park and NICCO Park.
1. Nandankanan Zoological Park: The Nandankanan Zoological Park and Botanical Garden, which spreads over an approximate area of 980 acres, is home to a wide variety of birds, animals and plants. There is a lake inside the premises, where boating facilities are offered.
2. Biju Patnaik Park: The Biju Patnaik Park, named after the former Chief Minister of Odisha Shri Biju Patnaik, features a well-manicured garden, children's play area, musical fountains and jogging tracks. Locals flock to the park in the mornings and evenings for their daily routine of walks and jogging.
3. NICCO Park: The Nicco Park, similar to the Ocean World Water Park, is an amusement park that features around 12 adventure rides along with activity and game zones. There are plenty of food counters in the complex as well.
In addition to the parks, tourists to Bhubaneswar can explore many other attractions the city is famous for including its ancient and new temples, well-preserved museums, historical sites and the buzzing marketplaces, where local delicacies are a must try while local handicrafts and clothing is a must buy.
Ocean World Water Park Bhubaneswar Entry Fee and Timings
The entry fee to visit the Ocean World Water Park near Bhubaneswar is Rs 400 per head for children from 5 years to 12 years. On the other hand, the fee for the adults (over 12 years) is Rs 500 per head. A refundable security fee of Rs. 50 is also charged at the time of ticket booking. Single person as well as group booking options are available at the park.
The charge for availing locker facility is Rs. 30 per locker and the fee for renting a swimming costume is Rs. 50. Visitors opting for the massage service at the in-house Ayurvedic massage center need to pay Rs. 400 per head. The park remains open all days of the week from 10 am till 6 pm. Ideally, the best time to visit the park are the morning hours because then there is enough time on hand to enjoy all the slides and rides.
How to Reach Bhubaneswar Ocean World Water Park
The Biju Patnaik International Airport is located at a distance of approximately 23 km from the Ocean World Water Park, and it takes about 45 minutes to reach here. On the other hand, the approximate distance between the Bhubaneswar Railway Station and this place is 20 km, and this distance can be covered in about 40 minutes. Tourists can easily avail auto rickshaws or private taxis from the list of top car rental companies in Bhubaneswar to travel from the airport or the railway station to the water park.
The airport in Bhubaneswar city is well connected to the rest of the country through regular flight services. On the other hand, the city railway station is a prominent junction for trains in eastern part of India as it receives daily trains from across India. Tourists from different cities of Odisha and nearby states prefer to come to Bhubaneswar by bus. The buses from these places finally halt at the Baramunda Bus Stand.
Things to keep in mind while visiting Ocean World Water Park Bhubaneswar
There are changing rooms and separate toilets for men and women in the premises.
The complex has various food courts.
Tourists can put their belongings in the lockers provided in the premises.
Swimming costumes for children, women and men can be rented or purchased at the premises.
---
When it comes to planning your Bhubaneswar holiday, let us take care of the little details so you can focus on what matters – enjoying your time in this beautiful city. We know all the best places to stay and the most efficient ways to get around, so we can tailor make your trip to Bhubaneswar exactly how you want it. Whether you're looking for an action-packed adventure or a relaxing getaway, Bhubaneswar Tourism can help make your holiday dreams a reality.
Location Map for Ocean World Water Park Bhubaneswar