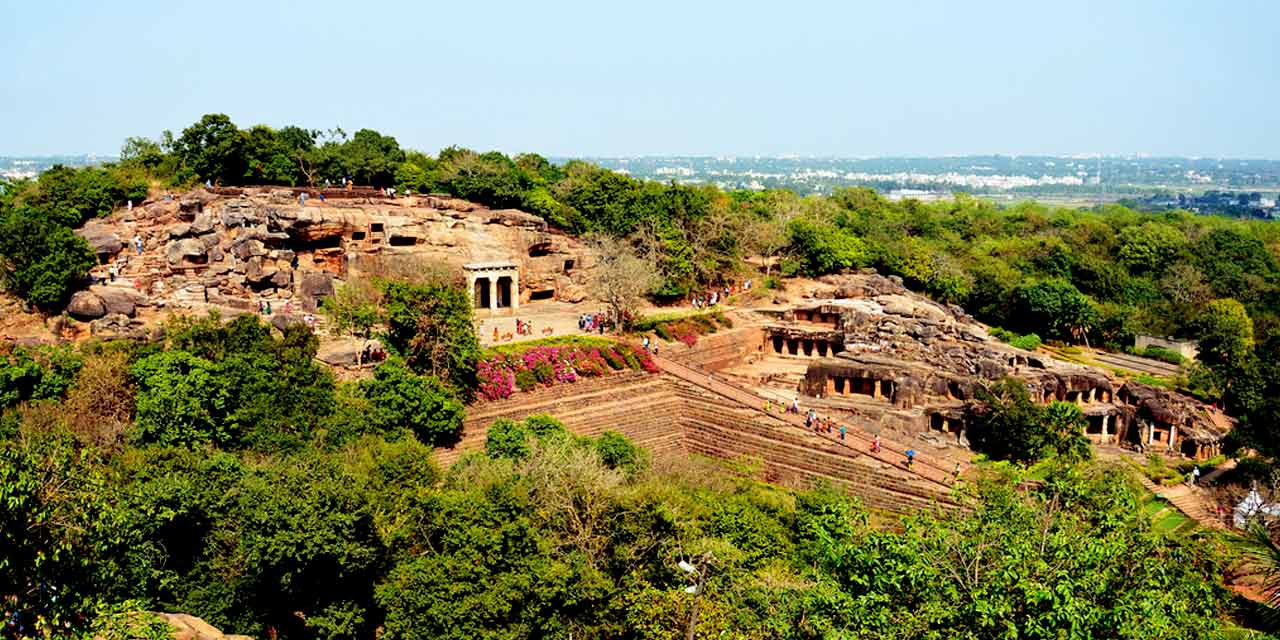 Udayagiri and Khandagiri Caves Bhubaneswar Entry Fee
15 per person for Indians
200 per person for Foreign Tourists
25 for Video Camera
Udayagiri and Khandagiri Caves Bhubaneswar Phone
---
Rating:

| 4/5 stars
Based on total 57 reviews
Udayagiri and Khandagiri Caves Bhubaneswar Address: Khandagiri-Chandaka Rd, Khandagiri, Bhubaneswar, Odisha, 751030, India
Bhubaneswar Tour Packages
Udayagiri and Khandagiri Caves Bhubaneswar Timings
| Day | Timing |
| --- | --- |
| Monday | 8:00 am – 5:00 pm |
| Tuesday | 8:00 am – 5:00 pm |
| Wedesday | 8:00 am – 5:00 pm |
| Thursday | 8:00 am – 5:00 pm |
| Friday | 8:00 am – 5:00 pm |
| Saturday | 8:00 am – 5:00 pm |
| Sunday | 8:00 am – 5:00 pm |
Links:
Website
|
Map
---
The famous Udayagiri and Khandagiri caves are located in the outskirts of Bhubaneswar, the capital city of Odisha. These caverns were made somewhere around the 1st and 2nd Century BC under the commission of King Kharavela of the Mahameghavahana dynasty that ruled Odisha (erstwhile Kalinga) during that time. These intriguing caves were built for the Jain monks to provide them a place to rest and meditate.
Initially, there were a total of 117 caves, of which only 33 caves can be seen today. Out of these 33 caves, 15 are situated in the Khandagiri Hills while 18 of them are located in the Udayagiri Hills. These twin caves are located on the two adjacent hills, which are part of the Kumari Mountain range. The Archaeological Survey of India (ASI) maintains the caves of the Udayagiri Hills; however, the ones in the Khandagiri Hills are still not under its purview.
These multi-layered rock-cut caves illustrate the importance of Jainism in the history of Odisha. This ancient attraction is one of the top places to visit in Bhubaneswar, especially for those tourists who have an interest in the historical sites.
History of Udayagiri and Khandagiri Caves Bhubaneswar
Previously known as Cuttack or Kattaka Caves, the Udayagiri and Khandagiri caverns were discovered in the 19th Century by Andrew Sterling, a young British officer. It is said that Jain monks led a nomadic life and traveled from one place to another. During one of their sojourns in Odisha during the monsoons, King Kharavela decided to build a place for them, where they could rest and meditate. As commissioned by him, these cave shelters were carved out in the hills for the monks.
Each of the caves received water in form of a small canal through a source; each had holes for easy communication, a place to burn the lamps and a floor that was slightly tilted so as to serve as a headrest. Many of these caves had an upper chamber, where it is believed that the monks went into profound meditation.
As per the Jain tradition, it is believed that there was a time when Mahavira Jain, who was the 24th Tirthankara (spiritual teacher) of Jainism, came to the Kumari Mountain and preached his doctrines. Ever since, this place has been sacred for the followers of Jainism.
Image Gallery of Udayagiri and Khandagiri Caves Bhubaneswar
Architecture of Udayagiri and Khandagiri Caves
These caves greatly reflect the Jain monks' simplicity, which is evident from the fact that these caverns have low ceilings, pointing that the only posture that was possible in them was the bowed down posture. Additionally, the lack of decoration in them further highlights it. These caves have sculptures only related to deities, religious observances and historical episodes.
The architecture and intricate sculptures on the walls of these caves depict several stories from mythology and history. It is noteworthy that these were carved by hand using simple, basic tools. The twin caves of Udayagiri and Khandagiri have their unique specialties when it comes to architecture.
Udayagiri
The most significant cave in the Udayagiri Hills is Cave 1 - Rani Gumpha (Queen Cave). It has a double-storey structure, with each storey featuring a central wing and three other wings; the central one being bigger in size. There are four cells in the central wing and a space that connects the left and right wing. In the central wing, there is a striking depiction of animals, human trees, women playing musical instruments and much more on the walls.
On the lower storey, the right wing has three entrances with pillared galleries (verandahs) while its entrance wall features carvings of royal scenes, animals and toranas (arched gateways). Most cells in this cave feature carved images of Dwara Palas (gatekeepers) while the toranas depict Jain religious symbols such as lotus and snakes.
Cave 2 in this hill is called Bajaghara Gumpha. It has a small size and the most noticeable thing to witness in the cave is its rectangular-shaped pillars. Cave 3 is known as Chhota Hathi (Small Elephant) Gumpha. There are six figures of small elephants along with a statue of a guardian in this cavern.
Cave 4 is called Alakapuri Gumpha. Inside it, there is a stunning sculpture of a ferocious lion, which is holding its prey in his mouth. Cave 5 is known as Jaya Vijaya Gumpha while Cave 7 is called Thakurani Gumpha. Both these caves have a double-storey structure featuring beautiful carvings and paintings of animals on their walls.
Caves 6 and 8 are identified as Panasa Gumpha and Pataliputra Gumpha. Cave 9 is called Swargapuri and Mancapuri Gumpha. This double-storey cave features depictions of two female and two male figures worshiping the Kalinga Jina (Lord Jagannath).
Cave 10 is Ganesha Gumpha, and it has been named so because there is an image of Lord Ganesha on the back portion of its right cell. This cavern also features a figure of a Jain Tirthankara in a worshiping position. Besides these, there are carved sculptures of Dwara Palas and elephants in the cave.
Among caves 11 to 18, the most important one is Cave 14 – Hathi Gumpha (Elephant Cave). This is a natural cavern featuring inscriptions about the reign of King Kharavela and his glories. Inscriptions including the sacred Namokar Mantra of the Jains are also found in Hathi Gumpha.
Caves 11, 12 and 13 are known as Jambeshvara Gumpha, Vyagraha Gumpha and Sarpa Gumpha while the caves 15, 16, 17 and 18 have been named as Dhanagarha Gumpha, Haridasa Gumpha, Jagannath Gumpha and Rasui Gumpha.
Khandagiri
Caves 1 and 2 are called Tatowa Gumpha. Both of them feature figures of two dwara palas at the entrance, along with figures of two lions and two bulls. Images of parrots can also be witnessed just above the arch of the cave.
Caves 3 to 6 are known as Ananta Gumpha, Tentuli Gumpha, Khandagiri Gumpha and Dhyana Gumpha. Cave 7 is called Navamuni Gumpha, which features wonderful sculptures of Sasana Devis and the nine Tirthankaras of Jainism. It is believed that these sculptures were carved in the 11th Century, during the reign of the Somavamshi Dynasty in Kalinga.
Cave 8, which has images of 25 Jain Tirthankaras on the walls of its cells, is called Bharabhuji Gumpha. Trusula Gumpha, Ambhika Gumpha and Lalatendu Keshari Gumpha have been numbered as caves 9, 10 and 11. No names have been given to caves 12, 13 and 15.
Cave 14, which is called Ekadashi Gumpha, is named after two serpents, images of whom have been carved on the cave entrance. On its wall, striking figures of athletes, children, women, bulls, lions and other animals have been depicted.
Inscriptions
There are several inscriptions on the walls of these two twin caves, with the one considered to be the most important being the Hathi Gumpha inscriptions, which is believed to have been carved during the 2nd Century at the orders of King Kharavela. Other important inscriptions besides this are found in the caves of Mancapuri and Sarpa Gumpha.
These inscriptions narrate King Kharavela's love story with his second wife while one another depicts the conversation the king had with another famous historical figure, Alexander the Great. It is greatly believed that the contents of the inscriptions of Hathi Gumpha are to be true records of King Kharavela's reign, as these contain symbols of the Jainism religion that has truth as its core value. This is further proved by the fact that the inscriptions begin with the salutation to the Arihantas (victors) and the Siddhas (pure souls). Hence, it is said that a king like he was; someone who had a deep faith in religion, could not have mentioned anything but the real truth.
The inscriptions depict several historical events from the reign of King Kharavela in a chronological order. One of the most interesting inscriptions found at these caves is that of the infamous Kalinga War, which has been deeply etched in the history of Odisha. These inscriptions not only talk about the political episodes but also about social, cultural and religious conditions prevailing in that period.
The language of the inscriptions is Brahmi, which is quite similar to the Pali language. The written style is Kavya (poetic). The inscriptions found in the famous Hathi Gumpha present Kharavela as a great king, conqueror, a champion of culture and a patron of Jainism.
Things to do at Udayagiri and Khandagiri Caves in Bhubaneswar
There is so much to explore in these twin caves for the tourists. Laden-with great craftsmanship and inscriptions depicting the ancient past, the place is a treasure trove for history enthusiasts. Those planning a visit to the Udayagiri and Khandagiri caves should keep sufficient time in hand to explore its intricate carvings and sculptures as each of them have so much to offer, especially the famous ones the Rani Gumpha and Hathi Gumpha. The former for its architecture and the latter for its detailed inscriptions.
All tourists may not be able to decipher what is being written on the walls but they will definitely enjoy looking at the sculptures carved on the hills, featuring images of animals, people, wars, religious symbols, deities, etc.
Another interesting aspect to witness in these caves is the intricate architecture that ensured that the Jain monks not only rested in them but received amenities like water from a canal-like structure that passed through each of the caverns. The holes in the caves that were created for the monks to communicate with each other are also worth exploring.
Besides this historical site, there is another such place to visit in Bhubaneswar, and it is the Dhauligiri Shanti Stupa and other popular attractions near it – the Ashokan Rock Edict. Both of these are related to the Kalinga War – the former being a memorial of peace that King Ashoka championed for after witnessing the aftermath of the war. The latter being the place where King Ashoka inscribed the teachings and values of Buddhism for his people to follow and spread throughout the world.
In addition to these historical sites, tourists can visit the popular ancient Hindu temples in the city - famously called the Temple City of India – the top ones being the Lingaraj Temple, Raja Rani Temple and Ananta Vasudeva Temple.
Bhubaneswar Udayagiri and Khandagiri Caves Entry Fee and Timings
The entry fee to visit the twin caves is Rs 15 per person for Indian nationals and Rs 200 per person for foreign nationals. The charge for video camera usage is Rs 25. The visiting timings of the caves are from 8 am to 5 pm. The place remains open on all days of the week. The best time to visit the caves is from November to February as during this period, the weather remains quite pleasant.
How to Reach Udayagiri and Khandagiri Caves, Bhubaneswar, Odisha
The Udayagiri and Khandagiri caves are located in the outskirts of Bhubaneswar city. Tourists can easily avail local transport services like auto rickshaws, private cabs or local buses to reach here. The distance between the Biju Patnaik International Airport and this area is around 6.5 km. It takes approximately 15 minutes to cover this distance. Regular flights from major cities in India are available till the Bhubaneswar airport.
On the other hand, the Bhubaneswar Railway Station is about 9.2 km away from the Udayagiri and Khandagiri caves. It takes around 20 minutes to reach the destination by auto rickshaw or taxi. This railway station is one of the busiest railway stations in Eastern India as it receives several trains from across the country, on a daily basis. To easily commute within the city, you can hire a private cab from the list of top car rental companies in Bhubaneswar.
Things to keep in mind while visiting Udayagiri and Khandagiri Caves
Parking facility is available at this place
Women should avoid wearing footwear like heels and stilettos
Photography is allowed inside the premises
Carrying drinking water as well as cap or hat is advisable
Morning is the ideal time to visit this place to avoid crowd and blistering heat later in the day
---
There is so much to see and do in Bhubaneswar , from exploring its rich history and culture to sampling its delicious food. Our tailor-made Bhubaneswar tour packages are designed to help you make the most of your time in this fascinating city. We at Bhubaneswar Tourism, a division of Holidays DNA, can help you plan your itinerary, book accommodation and transport, and recommend the best things to see and do. We can also provide guidance on the best time of year to visit Bhubaneswar and how to avoid the crowds. With our tailor-made holidays, you can have an unforgettable experience in Bhubaneswar without any of the stress. Please fill the Contact Us form to get in touch with us.
Location Map for Udayagiri and Khandagiri Caves Bhubaneswar