Often referred to as the "Temple City of the Country", Bhubaneswar is a vibrant and culturally rich tourist destination in India that is deeply rooted in history and culture. It boasts a vast collection of ancient temples with beautiful parks and gardens that provide serene escapes from the hustle and bustle of the city. Plan a guided tour with our Bhubaneswar City Tour Packages to have a great time in Bhubaneswar with your near and dear ones.
Tourists can immerse themselves in the local traditions by exploring the unique architectural styles of the pilgrimage sites, which are no less than a treat to watch.
Bhubaneswar's rich history and architectural marvels provide ample opportunities for photography enthusiasts. Taking a leisurely stroll through the city's streets, capturing the essence of its heritage, and interacting with the local people can be a rewarding experience.
Bhubaneswar's tourism extends beyond its famous attractions. The city offers numerous opportunities for spiritual and wellness retreats as well. You can engage in yoga and meditation sessions to rejuvenate your mind, body, and soul.
Odisha's cuisine is diverse and offers a delectable range of flavors. Bhubaneswar is a paradise for food lovers, with its local street food stalls and restaurants serving mouthwatering dishes like the famous Rasgulla, Chhena Poda, Puri Bhaji, and Machha Jhola. Exploring the local culinary scene is a must-do for any visitor.
It is also known for its grand celebrations of festivals throughout the year like Durga Puja, Raja Parba, Rath Yatra, and Diwali. These occasions offer a glimpse into the vibrant culture, traditions, and religious fervor of the region.
Here are the top 4 sightseeing places to visit with our Bhubaneswar City Tour Packages that are worth your time: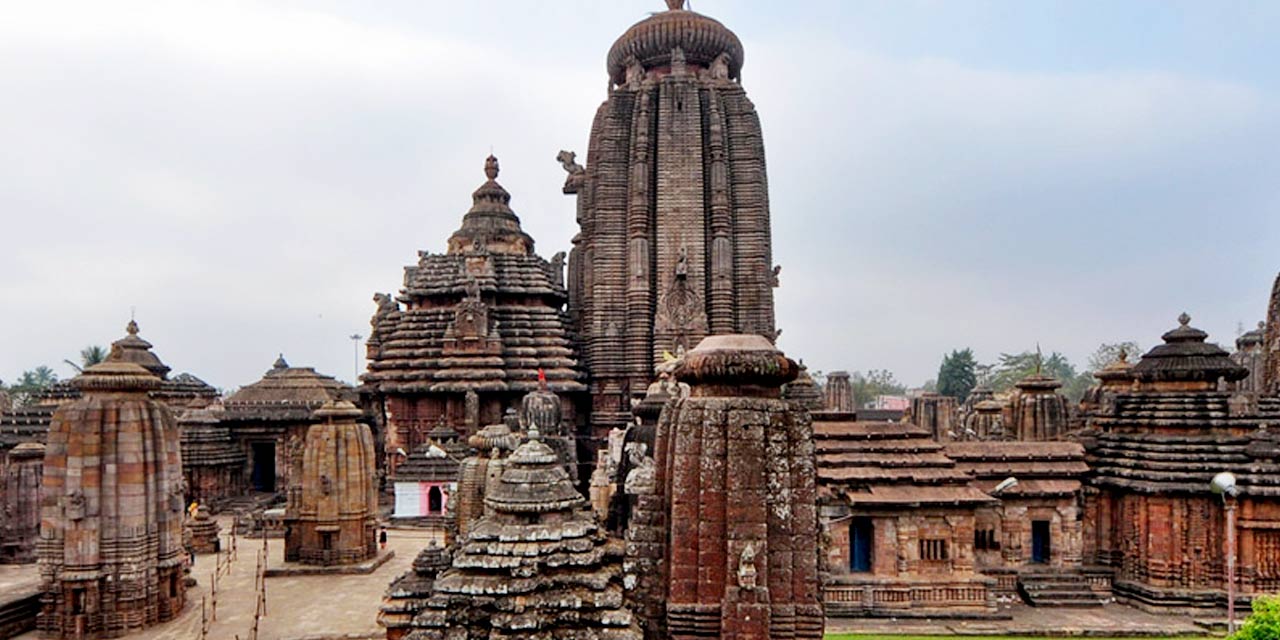 Visit the Lingaraj Temple to offer your prayers and seek blessings from Lord Shiva. Considered as the largest temple in the city, the Lingaraj Temple is a significant Hindu temple that holds great religious importance among the locals there.
It is said that the temple traces its history back to the 11th century and was constructed by the King Jajati Keshari of the Somavamsi dynasty. Over the centuries, various rulers and patrons made additions and renovations to the complex, resulting in its present form.
The Lingaraj Temple is a masterpiece of Kalinga architecture and features the quintessential style of Odishan architecture characterized by its towering spire, numerous sculptures, and intricate carvings. One can also find over 150 smaller shrines within the premises, each with its own unique architectural features and sculptures.
Please note that this temple receives a huge crowd on the occasion of the Maha Shivratri festival, which is celebrated with great enthusiasm. So, if you want to enjoy your visit to the fullest, try planning your getaway at that time of the year.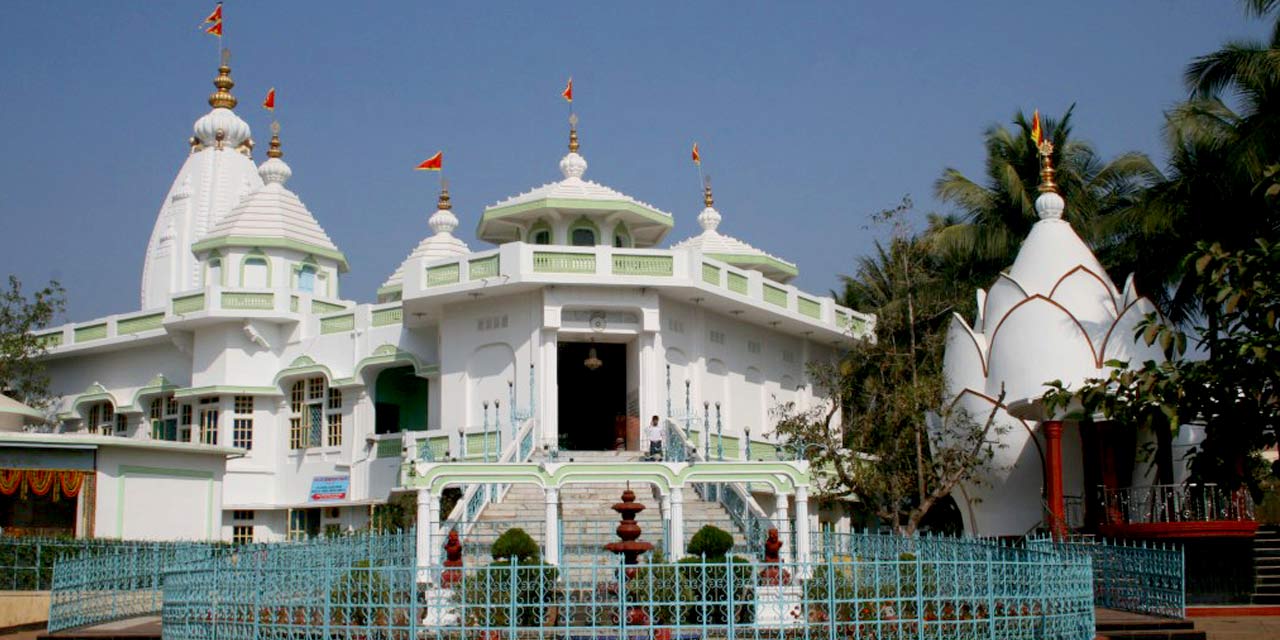 Another pilgrimage site that deserves your attention with our Bhubaneswar city tour packages is the ISKCON Temple. Dedicated to Lord Krishna, the ISKCON Temple boasts a kind of atmosphere that enables you to experience the devotional fervor, spiritual teachings, and cultural richness associated with Lord Krishna and the Vaishnava tradition. It is a place where devotees can find solace, engage in devotional practices, and deepen their understanding of Krishna consciousness.
Although the main deity worshipped in the ISKCON Temple is Lord Krishna along with Radha, it also houses the idols of other important deities including Lord Jagannath, Balarama, and Subhadra.
For your interest, the temple conducts regular spiritual and cultural activities as well to promote the teachings of Lord Krishna. Devotees and visitors can participate in morning and evening aarti (devotional ceremonies), kirtan (devotional singing), and discourses on spiritual topics. The temple also organizes festivals, seminars, and workshops to spread the message of Krishna consciousness.
It would be worth considering that the ISKCON Temple is located in the heart of the city near the Raj Bhavan area, which makes it easily accessible to people of all age groups.
3. Bindu Sarovara
Take some time off for Bindu Sarovara on your Bhubaneswar tour to enjoy a refreshing day out. It is a sacred lake where you can take a holy dip in its waters to wash away all your sins.
According to Hindu mythology, Bindu Sarovara is believed to be the spot where Lord Shiva, in the form of a drop, fell from his third eye after he became furious with Goddess Sati's self-immolation. It is said that the lake represents the divine teardrop of Lord Shiva and is considered highly sacred by devotees.
The lake has several ghats (steps) for devotees to access the water. These ghats are used for ritual bathing and prayers. The surroundings of Bindu Sarovara are serene, providing a peaceful ambiance for visitors seeking spiritual solace.
Paying heed to Bindu Sarovara offers a chance to connect with the spiritual heritage and mythology of the region. The lake's association with Lord Shiva makes it an important site for tourists seeking spiritual rejuvenation and a glimpse into the rich cultural traditions of Odisha.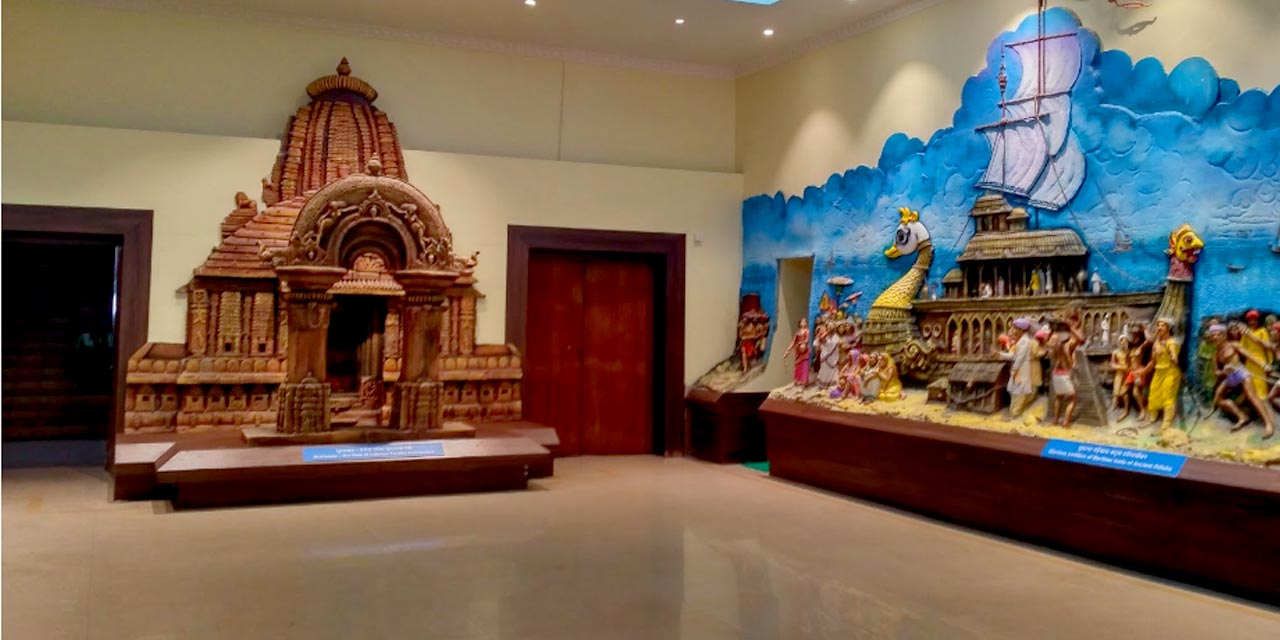 Ideal for history buffs, the Orissa State Museum is a prominent cultural institution that showcases the rich heritage and history of the state of Odisha. It is situated near the famous Kharavela Nagar, on the Mahatma Gandhi Marg, in a sprawling complex that spans over 11 acres.
The architecture of the building itself is noteworthy, reflecting a blend of traditional Odishan and modern architectural elements. The entrance is adorned with a beautiful sculpture of a dancing tribal couple, setting the tone for the artistic treasures that lie within.
One of the major highlights of the museum is the archaeological section, which showcases a wide range of ancient artifacts dating back to the Indus Valley Civilization, Mauryan, Sunga, and Gupta periods. Visitors can marvel at the exquisite sculptures, pottery, coins, and tools that offer glimpses into the lives of people from bygone eras.
The art section of the museum displays a diverse range of paintings, including traditional Pattachitra paintings, palm-leaf manuscripts, and ancient Oriya literature. In addition to all this, the Orissa State Museum also has galleries dedicated to natural history, anthropology, and arms and armor.
---
There is a lot more to see in Bhubaneswar other than the aforementioned places. You can book a Bhubaneswar city tour package with us to enjoy your Bhubaneswar tour to the fullest.
We at Bhubaneswar Tourism, a division of Holidays DNA, strive to offer the best of our services to our diverse clientele. With us, you can also upgrade to the package of your choice at any point. Our team doesn't mind adding a personal touch to our Bhubaneswar tour packages. To know more about our offerings, we request you to fill out the Contact Us form.
How to Reach Bhubaneswar?
To reach Bhubaneswar, you have 3 modes of transportation available to choose from. Depending on your base location and holiday budget, you can opt for the one that suits you the most. These are as follows:
By Air: Bhubaneswar Airport is the nearest airport that connects the city with the rest of the country via several flights. It is only 5 km away, making it easy for travelers to access their desired destination in Bhubaneswar at their utmost comfort.
By Road: Another convenient way is to catch a private or state-owned bus to Bhubaneswar. Alternatively, self-drive from Puri. The drive is around 60 km. Once you're in Bhubaneswar, there is an option of booking a cab from the list of top car rental companies in Bhubaneswar to travel further within the city.
By Train: Several trains run from Delhi, Mumbai, Kolkata, Hyderabad, Bangalore, Chennai, etc., to Bhubaneswar on an everyday basis for the ease of people. You can get the seat reservation done either through the online IRCTC portal or get in touch with us to avoid any confusion later.