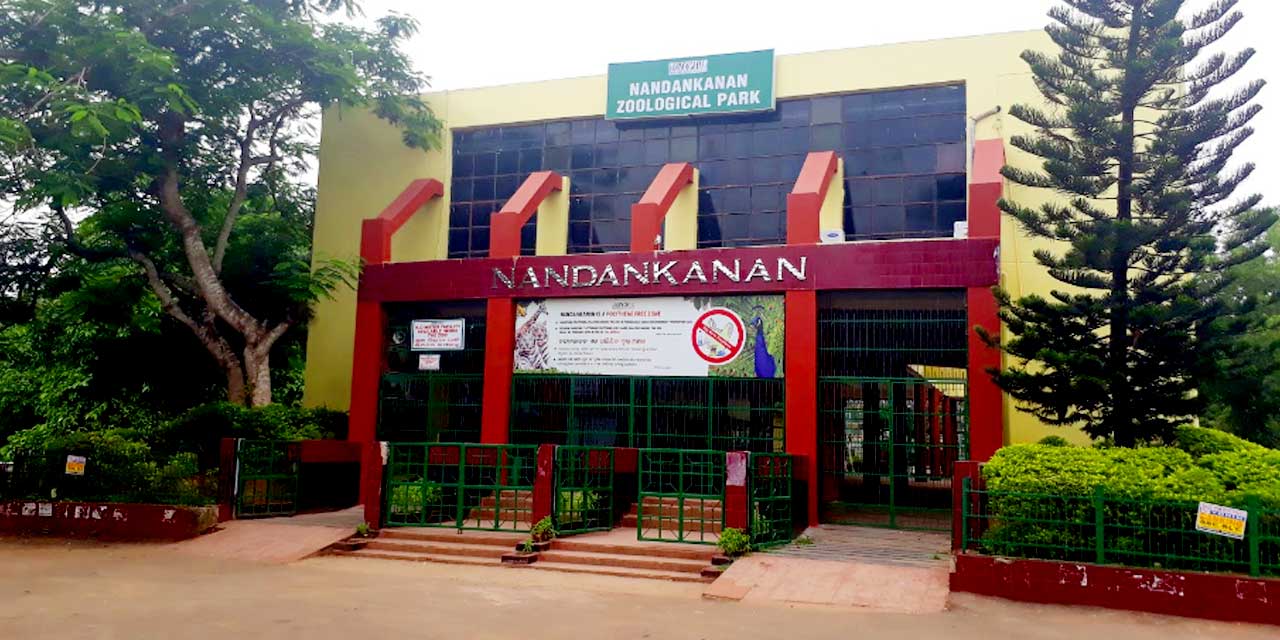 Nandankanan Zoological Park Bhubaneswar Phone
---
Rating:

| 4/5 stars
Based on total 53 reviews
Nandankanan Zoological Park Bhubaneswar Address: Nandankanan Rd, Near Police Station, Barang, Bhubaneswar, Odisha, 754005, India
Bhubaneswar Tour Packages
Nandankanan Zoological Park Bhubaneswar Timings
Day
Timing
Monday
Closed / Holiday
Tuesday
7:30 am – 5:30 pm (Apr to Sep)
8:00 am – 5:00 pm (Oct to Mar)
Wedesday
7:30 am – 5:30 pm (Apr to Sep)
8:00 am – 5:00 pm (Oct to Mar)
Thursday
7:30 am – 5:30 pm (Apr to Sep)
8:00 am – 5:00 pm (Oct to Mar)
Friday
7:30 am – 5:30 pm (Apr to Sep)
8:00 am – 5:00 pm (Oct to Mar)
Saturday
7:30 am – 5:30 pm (Apr to Sep)
8:00 am – 5:00 pm (Oct to Mar)
Sunday
7:30 am – 5:30 pm (Apr to Sep)
8:00 am – 5:00 pm (Oct to Mar)
Links:
Website
|
Map
Nandankanan Zoological Park Bhubaneswar Entry Fee
SL
Items/Facilities
Amount per unit (Rs)
Service Charges (Rs)
Total (Rs) per unit
1
Entry Fee
Adult (More than 12 years of age)
50
0
50
Child (3 to 12 years)
10
0
10
Foreign Nationals
100
0
100
2
Tourist Cottages
One No(Large)
300
0
300
Three Nos(Small)
200
0
200
3
Photography
Handy-cam
100
0
100
High-end Video Camera
500
0
500
Movie Camera
4000
0
4000
4
Children Facility
Perambulator
Free
0
Free
5
Safaris (45 Min for 4 safaris) (Outsourced)
Lion and White Tiger
30
0
30
Bear Safari
15
0
15
Herbivore Safari
15
0
15
6
Battery Vehicle (Outsourced) for one hour
Individuals
80
0
80
Reserve (8 Nos) Small
500
0
500
Reserve (14 Nos) Large
750
0
750
7
Boating for 30 Minutes (Outsourced)
Paddle Boat (2-seater)
50
0
50
Paddle Boat (4-seater)
100
0
100
family Boat
150
0
150
8
Toy Train
Adult (More than 12 years of age)
50
0
50
Child (3 to 12 years)
30
0
30
9
Ropeway
Under construction* (to be operated by M/S Damodar Ropeways & Infra Ltd)
Under Renovation
0
-
10
Aquarium
Adult (above 12-years)
Free
0
Free
Child (3-12 years)
Free
0
Free
11
Walk-through aviary
Adult (above 12-years Old)
Free
0
Free
Child (3-12 years)
Free
0
Free
12
Vehicle Parking (Outsourced)
Buses
70
0
70
4-wheelers
50
0
50
3-wheelers
30
0
30
2-wheelers
20
0
20
13
Cloak Room (Outsourced)
For single packet/luggage
5
0
5
14
Toilet (Outsourced)
At ticket counter complex
2
0
2
*Free entry for
1. The children below 3 years.
2. The differently abled persons and wheel chairs for their use. Students up to 12 years are allowed free entry in the Children day and Wildfile week subject to production of ID cards / documents in support of evidence.
State Botanical Garden Bhubaneswar Entry Fee
SL
Items/Facilities
Amount per unit (Rs)
Service Charges (Rs)
Total (Rs) per unit
1
Entry Fee
Above 12 years
20
0
20
2
Entry of vehicle (in each time)
Two Wheeler
30
0
30
Three Wheeler
30
0
30
Four Wheeler Light Vehicle
100
0
100
Buses/Mini Buses/Trucks etc
200
0
200
3
Accomodation in FRH
FRH-I Suit-I
3000
100
3100
FRH-I Suit-II
2500
100
2600
FRH-II
2500
100
2600
4
Cottages
Ground Floor
2500
100
2600
First Floor
2500
100
2600
5
Picnic Pindis
Smaller Pindi (12 Nos)
250
50
300
Larger Pindi (54 Nos)
500
50
550
6
Picnic Sheds
8 Nos
1200
100
1300
7
Special Pindis
Bigger Size Highland (1 No)
2000
100
2100
Smaller Size (9 Nos)
1500
100
1600
8
Shooting
Handy-cam
100
0
100
High-end Video Camera
500
0
500
Films
25000
0
25000
TV Serial/Documentary
15000
0
15000
Album Songs
10000
0
10000
*Free entry for the children below twelve years.
---
Nandankanan Zoological Park is one of the biggest and famous zoos in India. Located in Bhubaneswar, this zoo, unlike others in the country, has been built inside a natural forest, which is moist deciduous in nature and remains semi-ever green. The animals kept in this zoo get the feel of their natural surroundings and roam freely without any apprehensions. Nandankanan has the distinction of being the first zoo in the world to breed Melanistic and White tigers and the sole conservation breeding center for Indian Pangolins, across the globe.
A member of the World Association of Zoos and Aquarium (WAZA) - the only one in the country - the Nandankanan zoo is also recognized by the Central Zoo Authority (CZA) for preservation of Indian pangolins, tigers and long billed vultures. It is the first zoo in the country to feature an open-top enclosure for leopards and also the first, where endangered Ratels were born in captivity. The zoo has large pools for housing Hippopotamus and Gharials, and has been a captive breeding center for the latter since 1980.
The name 'Nandankanan' in the local language means 'Garden of the Heavens'. Such is the importance and exclusivity of the zoo that the Indian Railways has named an express train after it called the Nandankanan Express while the Indian Postal Department has released a special cover featuring it. On a visit to the city of Bhubaneswar, an excursion to the Nandankanan Zoological Park and Botanical Garden is a must, especially for those tourists, who are traveling with their children.
History of Nandankanan Zoological Park Bhubaneswar
The origin of the Nandankanan zoo began rather interestingly, when some forest officials from Odisha decided to represent the State in the World Agricultural Fair at Delhi in 1960, by showcasing its indigenous rare orchids and wild animals at the fair. However, the idea soon faced roadblocks as the procurement of such wild animals and their transportation was calculated to be quite an expensive affair. Hence, it was re-decided to rather take small animals such as Wild cat, Flying squirrel, Peacock, Mouse deer, Pangolin, Leopard cat, etc. to the fair. Since time was running out to capture these animals from the wild, people with possession of such wild animals were approached for procurement of the animals, by hire or purchase.
Finally, after a month, a Peacock, two Parrots, one Mouse deer, two Black buck, one Leopard cat, one Hornbill, two Hill Mynah, one Mongoose, two Barking deer, one Flying squirrel, two spotted deer and one Racket-tailed drongo were send to Delhi for exhibition at the Odisha Pavilion of the World Agricultural Fair.
By May 1960, these animals were back in Bhubaneswar but their feeding and upkeep was causing problems for the forest department. As a temporary solution, provisional structures made of brushwood having thatched roofs were built near the Khandagiri area to shelter these animals. This temporary arrangement attracted a large number of visitors from nearby villages and even from the city as well. It pleased the then Chief Minister of Odisha, Dr. H. K. Mahatab, who immediately took initiative to set up a zoo in Odisha.
As per the initial proposal, the plan was to establish the zoo at Ghatikia, an area close to the Udayagiri and Khandagiri caves but quickly, it was realized that water scarcity would pose a problem later. After which, the concerned authorities visited the Jujhagarh forest block near Kanjia Lake near the Barang Railway Station, and were immediately impressed by the serene beauty of the place including its lush green vegetation on either side of the lake and the low and rolling hills. Accordingly, it was decided to set up the zoological park at Jujhagarh Forest Block; a Botanical Garden at Krushnanagar Forest Block and develop the Kanjia Lake and introduce boating and angling.
On 29th December, 1960, the Nandankanan Biological Park – inaugurated by Shri S. K. Patil, the then Minister of Food and Agriculture, Government of India - came into existence. Three years later, the State Botanical Garden inside the zoo was opened to the public. In 1981-82, on recommendation from the Odisha Legislative Committee, the zoo was renamed as Nandankanan Zoological Park.
The natural setting of the park comprising moist deciduous forest area, large expanse of green topography and wetlands of Kanjia (163 acres) and Kiakani (61 acres) lakes created a landscape where wild animals, reptiles and birds lived in open, large-moat areas, which were extremely close to their natural habitat. The Kanjia Lake was listed as a Wetland of National Importance for its rich biodiversity in the year 2006. On the banks of these lakes is located the State Botanical Garden, which sprawls over an area of about 175 acres.
In August 1979, the zoological park along with the two lakes and the Botanical Garden was declared as the Nandankanan Wildlife Sanctuary, totaling an area of 4.37 sq. km. Today, the sanctuary is home of a rich assemblage of wild fauna and varied flora. Since its inception, the zoo has been successful in breeding several endangered species including Leopard, Tiger, Lion-tailed macaque, Asiatic lion, Nilgiri langur, Mouse deer, Indian pangolin, Indian crocodiles, Ratel, Brow-antlered deer and many other water and land birds.
Nandankanan has the distinction of being the only zoo in the world, where captive breeding of a White Tiger was carried out by normal colored parents. It is also known for being the first one to begin captive breeding of Gharials. Over the years, the zoo has been successful in breeding several white tigers that have been shifted to many zoos in India and abroad.
Image Gallery of Nandankanan Zoological Park Bhubaneswar
Architecture of Nandankanan Zoological Park in Bhubaneswar
There are 210 enclosures inside the zoo, featuring both open moat enclosures (94) and cages (116). The zoo is home to 3004 animals, including 262 reptiles, 1175 mammals, 21 amphibians and 1546 birds. These include 120 species of birds, 85 species of butterflies, 15 species of mammals and 15 species of reptiles, of which there are 53 exotic and 103 native species. The four large facilities at the Nandankanan zoo are the Lion Safari (approx. 49 acres), White Tiger Safari (approx. 29 acres), Herbivore Safari and Bear Safari.
The State Botanical Garden consists of 24 different satellite parks and gardens, along with picnic sheds, interpretation center etc. These are:
1. Butterfly Park: A popular attraction of the Botanical Garden is the Butterfly Park, which is spread over 36, 950 sq ft. The park's beautiful landscape comprises 6400 butterfly dependent plants. It also has a cascading waterfall with bridges, fountains and a 170 sq ft water channel. More than 81 species of butterfly can be spotted here. The Butterfly Park was opened in 2014 and an Interpretation Center located inside it, was opened in 2015. This center disseminates information on the various aspects of butterflies.
2. Cacti House: The Cacti House, spread over 1080 sq ft, is home to a wide collection of about 1200 cacti.
3. Glass House: The 2013 sq ft Glass House houses several varieties of succulent plants.
4. Philodendron House: About five varieties consisting of more than 2000 philodendrons can be seen at the Philodendron House.
5. Bonsai: More than 300 bonsai plants of 55 varieties are housed in the Bonsai garden.
6. Dry Garden: Spread over an area of approx. 0.65 acre, the Dry Garden located in front of the Glass House has been designed with loose stone work. The design creates a look of a dry zone. It is quite popular among the visitors to the park.
7. Green House: There is a state-of-the-art Green House in the premises that is spread over 5200 sq ft and comprises 60 species of indoor plants including Cordyline, Aglaonema, Philodendron, Peperomia, Calathea, Monstera, Dieffenbachia, etc.
8. Rosarium: The Rosarium is home to a wide collection of 1200 rose plants of 55 varieties. This garden, spread over 1.5 acres, is favorite among visitors, especially in winters when the flower plants are in full bloom.
9. Medicinal Garden: Spread over 2.26 acres of land, the Medicinal Garden houses a rich assemblage of 225 species of herbs, shrubs and trees.
10. Orchid House: The Orchid House, which is spread over 5000 sq ft, is the largest of its kind in the state of Odisha. It has on display more than 1000 orchids of 57 types, belonging to about 37 species.
11. Mughal Garden: Sprawling over 2.5 acres, the Mughal Garden has been designed to create a look of the Mughal era with flowering plants both perennial and seasonal, on both sides of flowing waters. This garden is quite popular among young people and receives heavy footfall, all year round.
12. Japanese Garden: The Japanese Garden, covering an area of 0.5 acres, is a state-of-the-art garden that has been built in Tsukiyama-niwa style, featuring flowing streams and small hills.
13. Evolution Garden: The Evolution Garden, spread over approx. 1.9 acres, has on display a variety of plants and offers detailed information of the evolution system of the plant kingdom. From lower plants like Pteridophyta, Algae, Bryophytes and Fungi to large plant groups such as Angiosperms and Gymnosperm are available here. The objective behind creation of such a unique garden is to give researchers and students an opportunity to learn about different plant species.
14. Landscape Garden: Covering an area of 1.6 acres, the Landscape Garden consists of 1000 trees of various species, shrubs and a lawn.
15. Heritage Garden: Located adjacent to the Evolution Garden, the Heritage Garden consists of old Banyan trees and natural rocks. This 1.2 acre-garden also has a small Tulsi garden, where six varieties of Tulsi plants can be seen, along with models of a tribal hut, life size cow and monk.
16. Palm Garden: The Palm garden, covering an area of 15000 sq ft, houses a collection of 29 varieties of palm trees. Inside the garden, there is a 15000 sq ft grass carpet along a water body that looks really amazing and draws a lot of visitors.
17. Arboretum: Spread over an area of approximately 9.9 acres, the Arboretum houses more than 234 species of plant and trees belonging to 49 families of the Eastern zone forests. It is an ideal place for botany researchers and students to learn about various plants and trees.
18. Bougainvillea Garden: The Bougainvillea Garden, covering an area of 21400 sq ft, houses more than 1000 Bougainvillea plants of eight varieties; each having a different color. Also, it has a series of creepers that can be seen at the backside of the garden.
19. Carnivorous Plant Garden: Opened in 2016, the Carnivorous Plant Garden that spreads over 800 sq ft, exhibits different species of carnivorous plants. Nandankanan zoo is the first of its kind to put on display these types of plants in a natural landscape.
20. Hibiscus Garden: Covering an area of 11000 sq ft, the Hibiscus Garden is located between the Palm Garden and Glass House, featuring more than 130 plants of 27 different types.
21. Buddha Park: The Buddha Park, located in proximity to the serene Kanjia Lake, houses a striking statue of Lord Buddha at its center. Spread over 12000 sq ft, the park also features sit outs, rain shelters and ornamental flower beds.
22. Children's Park: As the name suggests, this park has been set up within a natural setting, featuring slides, swings, merry-go-round, etc. There is a gallery in the vicinity, where a number of ornamental plants can be seen.
23. Artificial Zoo: In the Artificial Zoo, models of various animals are on exhibition. The objective of this zoo is to generate curiosity and awareness among children about different animal species and their habitats.
Things to do at Nandankanan Zoological Park, Bhubaneswar, Odisha
There is a lot to explore and lots to do at the Nandankanan Zoological Park and Botanical Garden. Tourists planning to visit this place need to keep sufficient time on their hands to thoroughly explore and enjoy all the aspects of this world-renowned zoological park. Besides witnessing the various animal enclosures and visiting the multi-variety Botanical Garden, visitors should definitely take a boat ride in the scenic Kanjia Lake for a refreshing experience.
In addition, visitors can enjoy a variety of food delicacies at the restaurants located inside the premises. They can also choose to visit the Souvenir Shop, where a number of local handicraft and gift items can be purchased. There is a library inside the zoo premises, where visitors can read from a brilliant collection of 3000 books and journals on wildlife and other related matters.
Visitors who wish to take rest and are looking for accommodation inside the premises need to book the Tourist cottages. However, to stay at these cottages, they are required to take permission from the office of Deputy Director, Nandankanan Zoological Park, in advance. It is to be noted that these cottages are available for accommodation only during the day time.
Other than the Nandankanan zoo, there are similar interesting places in the city of Bhubaneswar that are worth exploring. Some of these places are the Odisha Tribal Museum, Pathani Samanta Planetarium, Museum of Tribal Arts & Artifacts and Regional Museum of Natural History. In addition, the ancient temples too should be on the list of places to visit in Bhubaneswar.
Nandankanan Zoological Park Bhubaneswar Entry Fee and Timings
The entry fee to visit the zoological park is Rs. 10 for children (3 to 12 years) while for adults (above 12 years), the fee is Rs. 50. The entry fee for foreign nationals is Rs. 100. The fee for photography and video recording is Rs. 100, Rs. 500 and Rs. 4,000 for handy cam, high-end video camera and movie camera, respectively. The charge for 45 minutes safaris for Lion and White Tiger Safari, Bear Safari and Herbivore Safari is Rs. 30, Rs. 15 and Rs. 15, respectively. The toy train ride fee for children (above 3 years) is Rs. 30 and for adults is Rs. 50. On the other hand, boating in the lake for 30 minutes in a two-seater paddle boat, four-seater paddle boat and six-seater family boat is Rs. 50, Rs. 100 and Rs. 150, respectively.
The fee to be paid for entry into the Botanical Garden is free for children below 12 years and Rs. 20 for anyone above 12 years. The charges for accommodation in the Visitors Cottage vary from Rs. 2500 to Rs. 3000 with additional service charges. Those who wish to picnic in the park can do so at the different picnic sheds set up inside at a price ranging from Rs. 250 to Rs. 1500 along with service charges, depending upon the size of the shed chosen.
The timings of the zoological park and the botanical garden are 7.30 am to 5.30 pm (April to September) and 8 am to 5 pm (October to March). Both remain closed on Mondays. The offline and online booking for entry tickets is closed at 5 pm.
How to Reach Nandankanan Zoological Park
The approximate distance between the Nandankanan Zoological Park and the Biju Patnaik International Airport is 17.7 km while it is about 17.1 km from the Bhubaneswar Railway Station. Tourists can easily avail taxis from top car rental companies in Bhubaneswar and auto rickshaws to reach the park from the airport and the railway station. Another alternative is to hop on a train at the Bhubaneswar Railway Station and get down at the Barang station, which is located close to the park. Local buses from different parts of the city also ply to the Nandankanan Zoological Park.
Bhubaneswar is one of the important cities of the eastern part of the country, and thus is well connected to the rest of India by regular flight, train and bus services. Reaching here is never a hassle from any city of India.
Things to keep in mind while visiting Nandankanan Zoological Park Bhubaneswar
Outside food items are not allowed inside the premises.
Baggage is not allowed into the complex.
Parking facility is available at the park.
Drinking water kiosks and toilets can be easily found inside.
Sit outs and rain shelters have been built inside the premises.
There are cloak rooms and a Baby Care House in the park.
Wheelchairs and First-aid facilities are available inside.
---
Bhubaneswar Tourism, a division of Holidays DNA is here to help you plan your perfect trip to Bhubaneswar. We offer Bhubaneswar Tour packages that includes everything you want to see and do, whether you're interested in the city's rich history and culture, or you want to explore the beautiful parks and gardens. We can also recommend the best hotels and experiences to make your holiday truly memorable. So, please fill the Contact Us form to get in touch with us and we'll help you create a tailor-made Bhubaneswar holiday that's perfect for you.
Location Map for Nandankanan Zoological Park Bhubaneswar