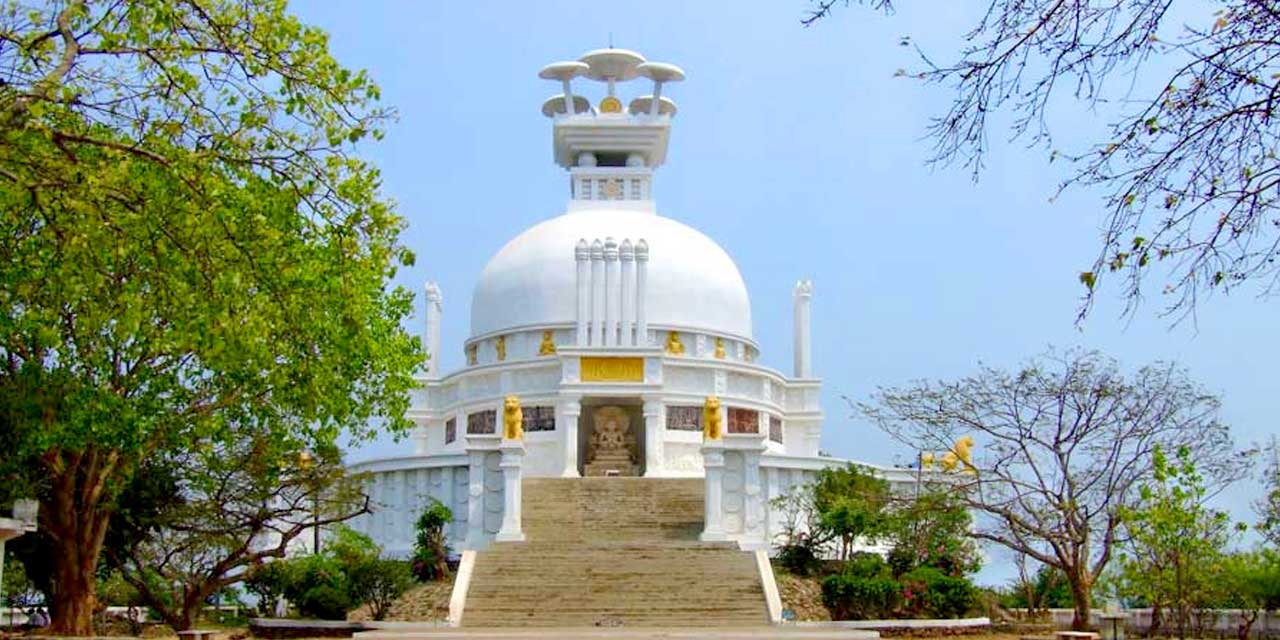 Dhauli Giri Hills Bhubaneswar Entry Fee
No entry fee
25 per person for Light & Sound Show
10 per person for Students
Dhauli Giri Hills Bhubaneswar Phone
---
Rating:

| 4/5 stars
Based on total 58 reviews
Dhauli Giri Hills Bhubaneswar Address: Dhauli Rd, Uttara, Odisha, 752104, India
Bhubaneswar Tour Packages
Dhauli Giri Hills Bhubaneswar Timings
| Day | Timing |
| --- | --- |
| Monday | 6:00 am – 6:00 pm |
| Tuesday | 6:00 am – 6:00 pm |
| Wedesday | 6:00 am – 6:00 pm |
| Thursday | 6:00 am – 6:00 pm |
| Friday | 6:00 am – 6:00 pm |
| Saturday | 6:00 am – 6:00 pm |
| Sunday | 6:00 am – 6:00 pm |
Light & Sound Show timings are 6:00 pm & 6:45 pm on all days except Mondays
Links:
Website
|
Map
---
Dhauli Giri Hills, located on the bank of Daya River, is about 8 km away from Bhubaneswar, Odisha; however, it is considered a part of the city and one of its major tourist attractions. Surrounded by plains, forests and the Daya River, these hills hold high importance in the history of not only Odisha but India as well.
This is the site where the famous Kalinga War was fought between the Mauryan Kingdom and Kalinga Kingdom, and where Emperor Ashoka, after having won the war, was taken aback by the enormity of the death toll and destruction. This is the place where, as penance, he chose to follow the path of Buddhism.
To commemorate this war and the subsequent transformation of Ashoka, a memorial in the form of a stupa has been built on these hills, called the Shanti Stupa or Peace Pagoda. Another remarkable thing about these hills is that at their foot is located the site of Ashokan Rock Edicts, another testimony to Emperor Ashoka's transformation for these edicts have messages of peace and the teachings of the peaceful religion of Buddhism.
History of Dhauli Giri Hills Bhubaneswar, Odisha
The Dhauli Giri Hills have a major significance in the history of India. It is this place where the Kalinga War was fought - one of the largest and deadliest battles the world has ever known. It is believed that more than 2,00,000 soldiers lost their lives in this bloody war. Such was the extent of bloodshed that the entire Daya River had turned red.
The sight of so much destruction, dead bodies and blood made Emperor Ashoka question the basis of war and bloodshed of innocent lives. He realized his mistake and took a vow to tread on the path of peace forever. He became a Buddhist and spread awareness about Buddhism, not only in India but in different countries of Asia as well. Ashoka commissioned rock edicts that had declarations, messages and teachings from him about non-violence, good conduct, decency towards others and right behavior at many places. The foot of the Dhauli Giri Hills is one such site, where those Ashokan Rock Edicts can be found.
The Kalinga Dhauli Mahotsav is the main festival celebrated at Dhauli Giri Hills. It is held every year in the month of February. This three-day festival is organized by the Odisha Tourism Department. The festival is famous for its different forms of classical dance, classical music and martial art dance performances. Renowned dancers, musicians and over 500 performance artists from across the country take part in this event.
Image Gallery of Dhauli Giri Hills Bhubaneswar
Things to do at Dhauli Giri Hills Bhubaneswar
Dhauli Giri Hills offer a panoramic view of the Bhubaneswar city and the beautiful Daya River. The view from the top of the hills is simply breathtaking. It has quite a calm and peaceful environment. The two most notable attractions of the Dhauli Giri Hills are the Shanti Stupa and Ashokan Rock Edicts.
1. Dhauli Shanti Stupa: On the Dhauli Giri Hills lies the Dhauli Shanti Stupa or Peace Pagoda. It is one of the most popular tourist attractions of Bhubaneswar. It was built around 1970 by Japan Buddha Sangha and Kalinga Nippon Buddha Sangha.
Famed for its magnificent architecture, this white stupa has a dome-shaped structure. The top of the dome features five umbrella-shaped extensions that depict the ideologies of Buddhism. Also, featured on its walls are sculpted images of Lord Buddha in different postures. The story of Lord Buddha's life has also been carved on the stone slabs in the temple. There is a large statue of Lord Buddha inside the stupa.
2. Ashokan Rock Edict: Ashokan Rock Edict, located at the foot of the Dhauli Hills, is another interesting place to visit here. This place is home to the declarations of Emperor Ashoka and his teachings of Buddhism carved on rocks, cave walls and pillars.
A highlight at the site is the rock-carved structure of an elephant, coming out of a huge rock. It is interpreted by many as the transformation of Emperor Ashoka from a cruel warmonger to a peace-loving Buddhist. There is also a beautiful garden in the complex.
3. Daya River: Dhauli Hills are located on the left bank of the Daya River. Tourists can enjoy the scenic beauty of this river, which is surrounded by vast plains and forest areas.
4. The Light and Sound Show: This show is conducted every day evening, except on Mondays, at the Dhauli Shanti Stupa. It is an amazing laser light show that depicts the life of King Ashoka and depicts the story of the Kalinga war. Tourists can enjoy this spectacular light and sound show by paying a nominal amount.
5. Dhabaleswar Temple: Dhabaleshwar temple is an ancient Hindu temple, which is located behind the DhauliGiri Shanti Stupa. The presiding deity of the shrine is Lord Shiva. This is another attraction to visit at the Dhauli Giri Hills.
Dhauli Giri Hills Bhubaneswar Entry Fee and Timings
There is no entry fee to visit the Dhauli Giri Hills in Bhubaneswar. This place remains open for all visitors from 6 am till 6 pm. However, there is an entry fee for the Light and Sound Show at Dhauli Giri Shanti Stupa. It is Rs. 25 per person. Two shows are conducted in the evening every day, except Mondays. Their timings are 6:30 pm to 6:50 pm and 7:10 pm to 7:30 pm.
How to Reach Dhauli Giri Hills Bhubaneswar, Odisha
Bhubaneswar is well connected to all the major cities of the country like Delhi, Kolkata, Mumbai and Bengaluru by regular flights and trains. Local buses, private cabs and auto rickshaws are easily available from the airport and railway station to Dhauli Giri Road.
Dhauli Giri Hills is located at a distance of 9.9 km from the Biju Patnaik International Airport, and it takes about 25 minutes to reach here. On the other hand, the Bhubaneswar Railway Station lies approximately 9.7 km away from Dhauli Giri hills, and it takes nearly 24 minutes to reach here. You can hire a private cab from top car rental companies in Bhubaneswar to easily reach it.
Things to keep in mind while visiting Dhauli Giri Hills Bhubaneswar
Parking facility is available at the site
Shoes need to be removed before entering the Shanti Stupa
Wearing hiking shoes is advisable while climbing the hills
Morning visit to the place is advised to avoid crowd and scorching heat later in the day
Wearing cap or hat and carrying drinking water is suggested
Camera is allowed in the premises
---
Bhubaneswar is one of the famous tourist destinations in India and to explore it to the fullest, you can book a Bhubaneswar Tour package with us. Bhubaneswar Tourism, a division of Holidays DNA makes sure you have a memorable holiday experience with our well designed packages catering to your varied holiday needs. To know more about our offerings, please fill the Contact Us form.
Location Map for Dhauli Giri Hills Bhubaneswar