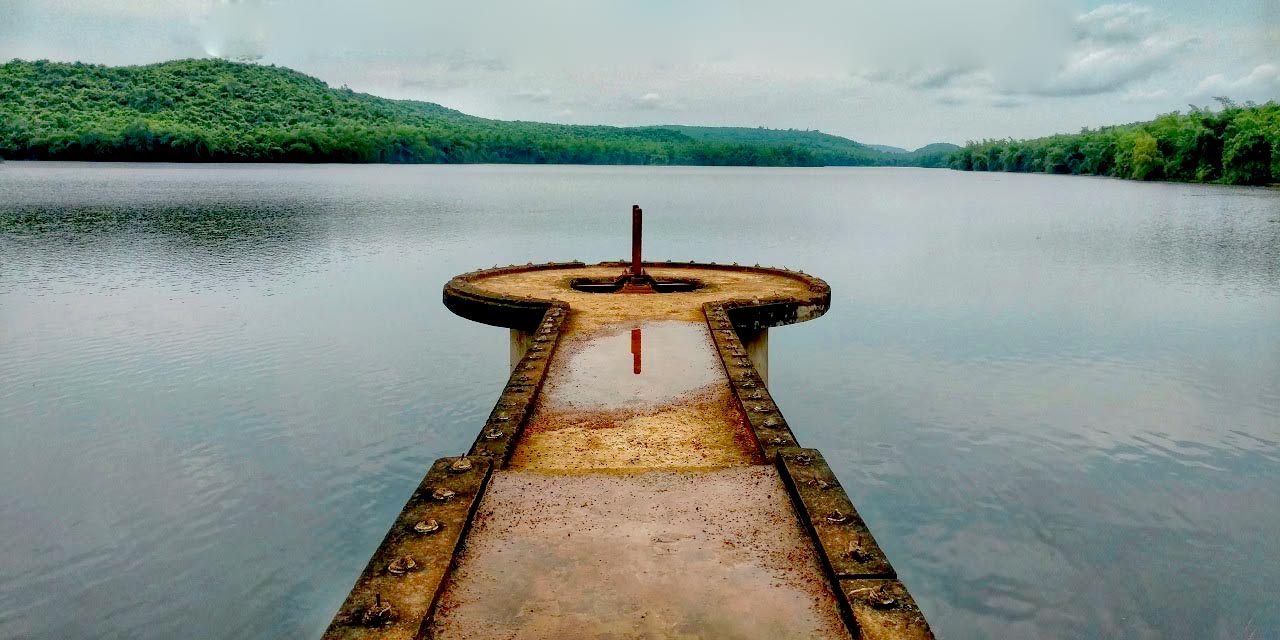 Deras Dam Bhubaneswar Entry Fee
40 per person
20 Parking charges for 2 wheelers
Deras Dam Bhubaneswar Phone
---
Rating:

| 4/5 stars
Based on total 47 reviews
Deras Dam Bhubaneswar Address: Kantabada - Deras Dam Rd, Barapita, Bhubaneswar, Odisha, 752054, India
Bhubaneswar Tour Packages
Deras Dam Bhubaneswar Timings
| Day | Timing |
| --- | --- |
| Monday | 10:00 am – 5:00 pm |
| Tuesday | 10:00 am – 5:00 pm |
| Wedesday | 10:00 am – 5:00 pm |
| Thursday | 10:00 am – 5:00 pm |
| Friday | 10:00 am – 5:00 pm |
| Saturday | 10:00 am – 5:00 pm |
| Sunday | 10:00 am – 5:00 pm |
Links:
Website
|
Map
---
Deras Dam, located around 20 km away from Bhubaneswar, is considered among the largest dams in Odisha. Established in the year 1967 as a water reservoir, the dam's main source of water is rain water. This dam was constructed mainly for irrigation purposes. However, a few canals that originate from the dam also serve as the source of water for the animals living in the Chandaka Wildlife Sanctuary.
Access to the dam is controlled by the Forest Department as it comes under the area of the sanctuary. A perfect weekend getaway spot for the people of Bhubaneswar, this dam is flocked by tourists and locals, mostly in the winter season for picnics.
Things to do in Deras Dam Bhubaneswar
The Deras Dam is surrounded by hills and lush green trees that make for a brilliant scenic view. The natural beauty and the peaceful environment of the place mesmerizes everyone. Hence, people enjoy picnicking at this spot. The view of the sanctuary, the dam and the green foliage from the hilltops is a serene experience altogether. Thus, those interested in photography love it here as there is so much to capture, starting from wildlife and hills to the vast water stretch of the dam.
There are few cottages available on the hilltop in the area, where visitors can stay by seeking prior permission from the Forest Department Office. As the dam lies close to the Chandaka Wildlife Sanctuary, a guided safari facility is also available for tourists to visit inside the sanctuary for about 40 km.
Another interesting attraction to visit nearby is the Jhumka Dam. It lies in proximity to the Chandaka Wildlife Sanctuary and is a popular picnic spot.
Image Gallery of Deras Dam Bhubaneswar
Deras Dam Bhubaneswar Entry fee and Timings
The entry fees charged for visiting Deras Dam is Rs 40 per person. It remains open all days of the week from 10 am till 5 pm. For photography and video shooting, there may be additional charges. Parking charges for two wheelers is about Rs. 20.
How to reach Deras Dam Bhubaneswar
Deras Dam is located approximately 20 km away from Bhubaneswar, which is well connected to all the major cities of the country through regular flights, trains and buses. From the airport and railway station, tourists can avail local buses, private taxis and auto rickshaws till Deras Dam.
The distance between Bhubaneswar Railway Station and Deras Dam is approximately 20.9 km and it takes almost 1 hour to reach here with a private cab from top car rental companies in Bhubaneswar. On the other hand, the Biju Patnaik International Airport is around 19.5 km away, and it takes about 53 minutes to reach the dam.
Things to keep in mind while visiting to Deras Dam Bhubaneswar
Paid parking facility is available
Visitors are advisable to carry their own food and drinks
Bathing in the dam is prohibited
Proper precautions should be taken before going close to the water
Guided safari facility is available to visit around 40 km near the dam
---
Looking for an all-inclusive Bhubaneswar tour package? Look no further than us! We at Bhubaneswar Tourism, a division of Holidays DNA, take care of everything so that you can sit back and relax on your vacation. We design our packages keeping everyone's budget and other requirements in mind. And if you need a tailor-made package, our team of experts can help you out. To know more about our services, please fill out the Contact Us form.
Location Map for Deras Dam Bhubaneswar