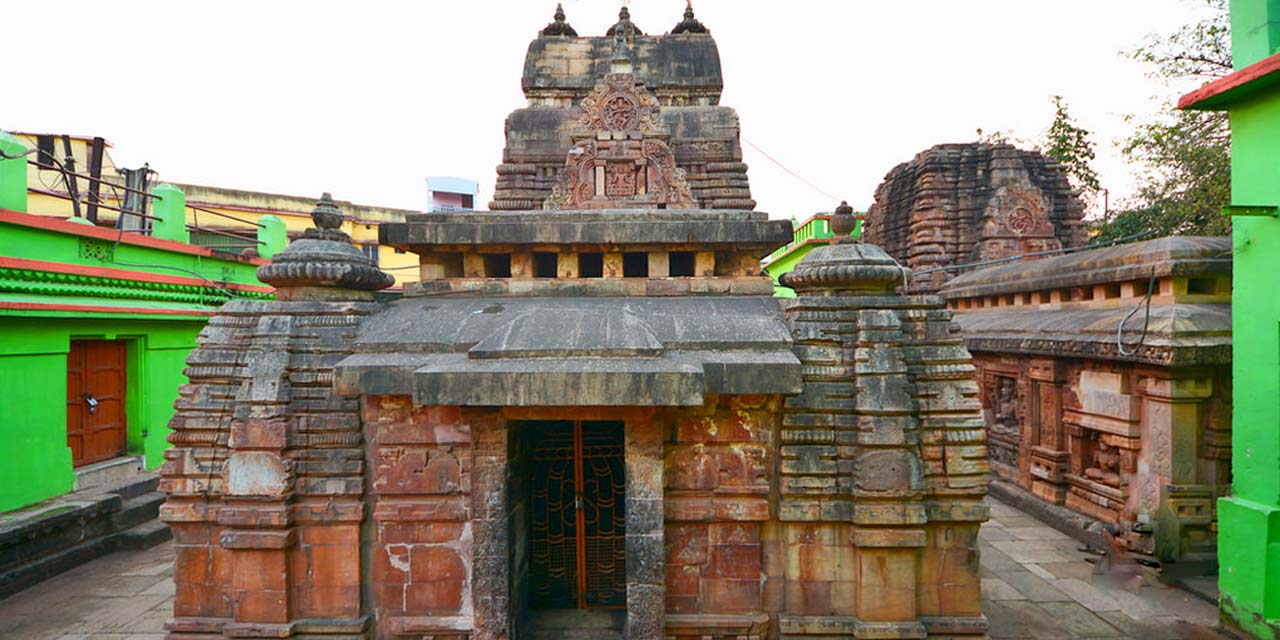 Vaital Deul Temple Bhubaneswar Entry Fee
Vaital Deul Temple Bhubaneswar Phone
N/A
---
Rating:

| 4/5 stars
Based on total 45 reviews
Vaital Deul Temple Bhubaneswar Address: Barhadanda Road, Old Town, Bhubaneswar, Odisha, 751002, India
Bhubaneswar Tour Packages
Vaital Deul Temple Bhubaneswar Timings
| Day | Timing |
| --- | --- |
| Monday | 7:00 am – 8:00 pm |
| Tuesday | 7:00 am – 8:00 pm |
| Wedesday | 7:00 am – 8:00 pm |
| Thursday | 7:00 am – 8:00 pm |
| Friday | 7:00 am – 8:00 pm |
| Saturday | 7:00 am – 8:00 pm |
| Sunday | 7:00 am – 8:00 pm |
Links:
Website
|
Map
---
Vaital Deul Temple or Baitala Deula Temple, located at the bank of Bindu Sarovar (Lake), is one of the oldest Hindu shrines in Bhubaneswar. The temple was built in the 8th century AD by Queen Tribhuvana Mahadevi of Bhauma Kara dynasty. The shrine is famous for its rectangular-shaped deul (tower), featuring various intricate carvings.
The presiding deity of the temple is Goddess Chamunda - the tantrik (occult) incarnation of Goddess Durga. The interior of the sanctum of the temple is dimly lit, and hence, the idol of the deity cannot be seen clearly; visitors need to use artificial light to see inside. This holy place is locally known as Tini Mundia Temple or Kapalini Temple. An important shrine dedicated to Goddess Durga, this ancient temple receives worshippers all year round.
History of Vaital Deul Temple Bhubaneswar
As per history, the Vaital Deul Temple was commissioned by Queen Tribhuvana Mahadevi, who became the first female ruler of Bhauma Kara dynasty after her husband King Santikara I died. There are many other stories related to the origin of the name of the temple. Some say that the name 'Vaital' has been derived from a Sanskrit name 'Vahitra', meaning ship. This can be associated with the temple's upper part, which is shaped like a reversed ship. While others believe that the temple is named after the vegetable Pumpkin, which is locally called Vaita Kakharu.
It is also believed that in the past, various rituals and practices related to Tantriks (occultist) and Kapalikas (worshippers of human skulls) were associated with the temple. Therefore, the temple may have been known as 'Vaital', derived from the word 'Vetala', meaning spirits.
Image Gallery of Vaital Deul Temple Bhubaneswar
Architecture of Vaital Deul Temple Bhubaneswar
The temple has a typical Khakhra style of Kalinga architecture. This style is believed to have been used to design temples associated with tantric groups. The main highlight of the temple is its Deul (tower), which is rectangular in shape and placed at a right angle to the Jagamohana (assembly hall).
Another feature of the shrine is its three Sikharas (spires) that are positioned on the top of the rectangular Deul. It is believed that these Sikharas represent Goddesses Mahakali, Mahasaraswati and Mahalakshmi, symbolized as the powers of Goddess Chamunda. Therefore, the temple is also known as Tini Mundia Temple.
The idol of Goddess Chamunda in the temple is decorated with a wreath of skulls around her neck, with statues of an owl and a jackal, alongside. The idol is seated on a carcass, stabbing the neck of a devil while holding an arrow, trident, bow, shield, snake, sword and thunderbolt, all at once.
The body of the deity looks withered with gaunt eyes, sunken belly with a bright red tongue. This eight-armed goddess is also locally known as Kapalini. Inside the sanctum, 15 recesses in the wall have been made around the idol. Each recess is installed with a strange figure.
The front of the Deul, on the top left of the Jagamohana, has two horseshoe-shaped windows, which are carved with beautiful images of the Sun god with his wives, Usha and Pratyusha on either side and a ten-armed Nataraja.
The exterior walls of the temple are carved with figures of Hindu deities like Lord Shiva and Goddess Parvati in her Shakti avatar, wild animals, beautiful postures of females, couples and images of processions. The ingress of the temple is adorned with the graceful carving of a four-faced linga.
Things to do in Vaital Deul Temple Bhubaneswar
Exploring the architecture of Vaital Deul Temple can be a wonderful experience, especially the sculptures and images carved on the walls of the temple. Architecture lovers will certainly like it here. In addition to this shrine, there are quite a few popular attractions close by that can also be visited.
Sisireswara Temple is a holy place located near the Vaital Deul Temple. This temple is famous for its splendid architecture. Both Vaital Deul and Sisireswara are located on the bank of Bindu Sarovar. This lake, which is 700 ft wide and 1300 ft long, is a sacred place, and it is believed that a dip in its water washes away all the sins and drinking it cures all diseases.
The Lingaraj Temple is another famous place to visit nearby. This temple is only 600 m away from the Vaital Deul Temple and takes only 3 minutes to reach there. It is one of the most visited shrines in the city of Bhubaneswar. Located in proximity is also Ekamra Van, which is a medicinal garden that houses a wide variety of medicinal plants.
Vaital Deul Temple Bhubaneswar Entry fee and Timings
There is no entry fee to visit the Vaital Deul Temple. Devotees can enter the temple as early as 7 am. The closing time of the shrine is 8 pm. It remains open on all days of the week.
How to reach Vaital Deul Temple Bhubaneswar
The Vaital Deul Temple can be easily reached from any part of the city, airport and railway station by availing prepaid taxi, local bus and auto rickshaw services. The Biju Patnaik International Airport is only about 3.6 km away from the temple, and it takes about 10 minutes to cover this distance. On the other hand, the Bhubaneswar Railway Station is located about 4.1 km away.
The Bhubaneswar airport and the railway station receive regular flights and trains, respectively from across the country on a daily basis. Therefore reaching this city is not at all a hassle. Bus service to the city is also available from cities from within the state and outside. You can alsl hire a taxi from the list of top car rental companies in Bhubaneswar for hassle free commutation within the city.
Things to keep in mind while visiting to Vaital Deul Temple Bhubaneswar
Shoes are not allowed inside the temple premises.
Only Hindus are allowed inside the sanctum.
Difficult to locate as it is a small temple.
---
We know that everyone's idea of a perfect Bhubaneswar holiday is different. That's why we offer such a great range of flexible Bhubaneswar tour packages, whether you want to stay in the heart of the action or get away from it all. We can help you plan an unforgettable trip, with our first-hand knowledge and recommendations. We can also tailor your holiday to include exactly what you want to see and do. So whether you're looking for an action-packed adventure or a relaxing break, Bhubaneswar Tourism, a division of Holidays DNA has a package for you. Hurry, Contact Us today!
Location Map for Vaital Deul Temple Bhubaneswar