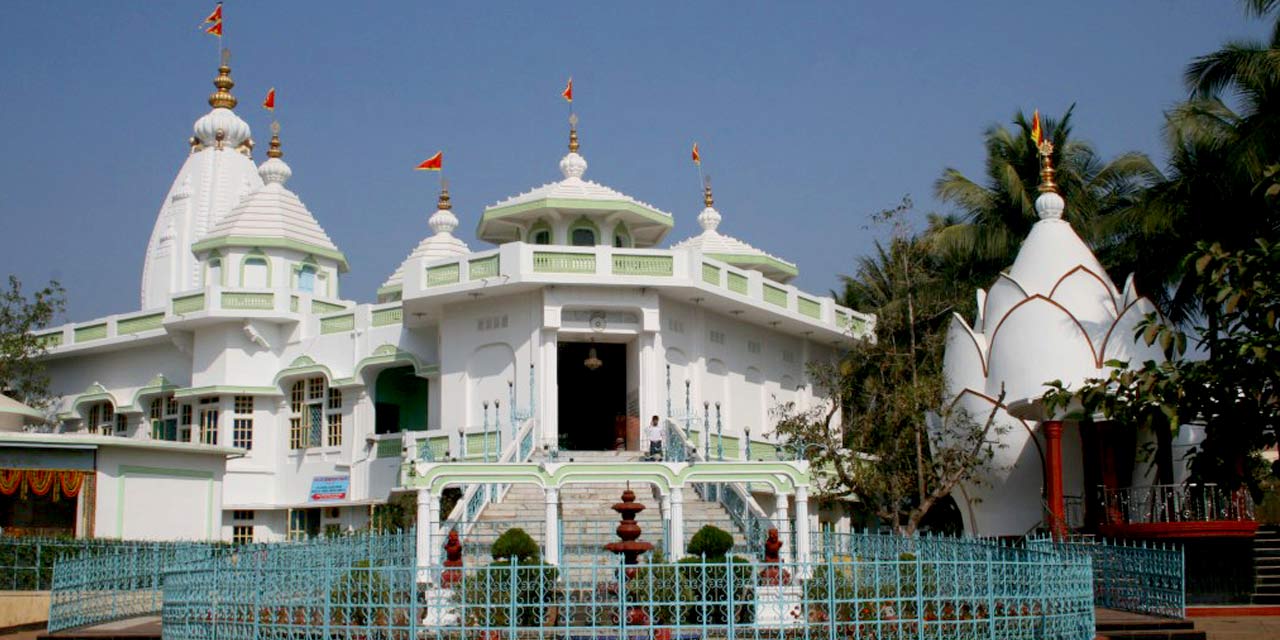 ISKCON Temple Bhubaneswar Entry Fee
ISKCON Temple Bhubaneswar Phone
---
Rating:

| 4/5 stars
Based on total 54 reviews
ISKCON Temple Bhubaneswar Address: NH-5, Near Krishna Tower, IRC Village, Nayapalli, Bhubaneswar, Odisha, 751015, India
Bhubaneswar Tour Packages
ISKCON Temple Bhubaneswar Timings
Day
Timing
Monday
4:00 am – 5:00 am
7:30 am – 12:45 pm
4:15 pm – 8:30 pm

Tuesday
4:00 am – 5:00 am
7:30 am – 12:45 pm
4:15 pm – 8:30 pm

Wedesday
4:00 am – 5:00 am
7:30 am – 12:45 pm
4:15 pm – 8:30 pm

Thursday
4:00 am – 5:00 am
7:30 am – 12:45 pm
4:15 pm – 8:30 pm

Friday
4:00 am – 5:00 am
7:30 am – 12:45 pm
4:15 pm – 8:30 pm

Saturday
4:00 am – 5:00 am
7:30 am – 12:45 pm
4:15 pm – 8:30 pm

Sunday
4:00 am – 5:00 am
7:30 am – 12:45 pm
4:15 pm – 8:30 pm

Links:
Website
|
Map
---
Schedule of Sri Sri Krishna Balaram Temple, Bhubaneswar
| | |
| --- | --- |
| Mangal Arati | 04:15 AM |
| Mantra Meditation | 05:15 AM |
| Srinagar Arati | 07:15 AM |
| Bhagavatam Class | 08:00 AM |
| Darshan Closes | 12:45 PM |
| Darshan Opens | 04:15 PM |
| Sandhya Arati | 06:15 PM |
| Gita Class | 07:30 PM |
| Darshan Closes | 08:30 PM |
About ISKCON Temple Bhubaneswar
The ISKCON Temple is located at the heart of the beautiful Bhubaneswar city, which is the capital of Odisha. It is also known as Sri Krishna Balaram Temple. Built by Sri Gaur Govinda Swami, this holy shrine is a great center for spiritual learning and discourse.
The presiding deities of the temple are Lord Krishna and Lord Balaram. Similar to other famous ISKCON temples across the country, this shrine too is quite popular among tourists and a must-visit attraction in Bhubaneswar, the 'Temple City of India'. This temple serves as an alternative to the famous Lord Jagannath Temple of Puri for devotees and tourists, who are unable to visit it.
Inaugurated in 1991 by Sri Nityananda Prabhu, this sprawling temple campus has a Padma Mandira (Lotus Temple), where idols of Sri Radha Gopinatha and Sri Gauranga Mahaprabhu have been placed for reverence. There are three other altars in the temple that of Sri Krishna-Balaram, Sri Gaur Nitai, and Sri Jagannath, Sri Balaram and Subhadhra Devi. The temple also includes Srila (Swami) Prabhupada's 'Bhajan Kutir' and Sri Gaur Govinda Swami's 'Samadhi Mandira' and 'Smriti Mandira'.
A 'Brahmachari' ashram complex has been built inside the premises that can accommodate up to 150 Brahmacharis. The same ashram complex has an office; a 'Prasadam Hall' for 300 devotees; a conference hall with a capacity of 150 devotees; a library and four rooms for 'Sanyasis'. There are three kitchens in the campus: one kitchen where food is cooked for the deities; one for the devotees and another is of the restaurant 'Govindas Prasadam'.
History of ISKCON Bhubaneswar, Odisha
It was Sri Gaur Govinda Swami, who under the guidance of Swami Prabhupada, started building the ISKCON Temple in Bhubaneswar in 1975. This shrine is the 108th and the last one commissioned by Swami Prabhupada. It took 17 years to build this holy place; finally, it was inaugurated in 1991, in presence of Sri Nityananda Prabhu.
Architecture of Bhubaneswar ISKCON
The Lotus Temple (Padma Mandira) in the premises is actually shaped like a blooming lotus and is one of the highlights of the temple's architecture. The shrine has a typical Hindu temple architectural style, including Jagati, ArdhaMandapa, Mahamandapa, Garbagriha, Shikhara, Amalaka and Kalasha.
Made of white marble, the temple not only looks beautiful but also resonates a sense of calmness and peace. The staircase leading towards the entrance of the temple has been built wide for a hassle-free experience for the devotees. Right in front of these stairs is a small fenced garden.
Image Gallery of ISKCON Temple Bhubaneswar
Things to do at Bhubaneswar ISKCON Temple
Besides offering their prayers at the different temples inside the premises, tourists and devotees can do various things at the temple.
Srimad Bhagavatam and Srimad Bhagavad Gita: In the morning, from 8 am to 9 am, daily classes of Srimad Bhagavatam are held in the campus, while Srimad Bhagavad Gita classes are organized from 7.30 pm to 8.30 pm every day. Devotees can choose to attend these classes and experience the joys of a spiritual discourse.
Literature: The library and the book stall in the premises are a treasure trove of Vedic literature books, with many of them being written by Swami Prabhupada. Spiritual book lovers and devotees visiting the temple must spend some quality time at the library, reading these rich Vedic texts.
Congregation Preaching: Tourists planning to visit the shrine on a Sunday can join the congregation preaching program and listen to discourses by the spiritual gurus of ISKCON.
Children Competitions: Tourists and devotees, who wish to visit the temple on the eve of Janmashtami festival, should bring along their children with them as on that auspicious day. The temple management organizes different children-based competitions, namely Sri Krishna Song Competition, Sri Krishna Art Competition, Sri Krishna Quiz Competition and Sri Krishna Vesa Competition.
Bhagavata Darshan: An Odia magazine called Bhagavata Darshan, meaning Back to Godhead is published monthly and made available in the temple. It was first published by Sri Gaur Govinda Swami. Devotees interested in reading the writings on Krishna consciousness and other spiritual teachings should read the magazine when in the premises.
Govindas Prasadam: It is the name of the restaurant, which is situated inside ISKCON Bhubaneswar. A pure vegetarian restaurant, Govindas Prasadam offers sumptuous breakfast, lunch buffet, evening snacks and dinner buffet. It can accommodate up to 85 people at a single point of time. People coming here are served by 40 sevas of the restaurant. The restaurant is well known for its delicious food varieties. Cleanliness is paramount in this wonderful restaurant. Currently, the restaurant is closed.
Celebrations: The ISKCON temple at Bhubaneswar is quite famous for celebrating a number of festivals in its premises throughout the year. Ratha Yatra, Narashimha Chaturdasi, Chandana Yatra, Ram Navami, Hare Krishna Utsav, Jhulan Yatra, Deva Snana Purnima, Radhashtami, Geeta Jayanti, Gopashtami, Balaram Jayanti, Goura Purnima, Deepavali and Govardhan Puja some of the festivals that are celebrated with much fervor at ISKCON.
The two most important days at the shrine are Janmashtami and Nityananda Trayodasi, when the temple is decorated like a dream and there is an air of great festivity on these days. Besides it, the temple organizes Kirtans, Bhajans and different religious chanting all through the year.
Guesthouse: Devotees who wish to stay close to the temple and visit it frequently, can stay at ISKCON Bhubaneswar guest house, which is located nearby the temple premises. There are both AC and Non-AC rooms at the guesthouse. Only pure vegetarian meals are provided at this place. Interested tourists and devotees are advised to book their rooms in advance to avoid any last-minute rush. Currently, the guesthouse is closed.
ISKCON Bhubaneswar Entry Fee and Timings
No entry fee is charged at the temple to tourists and devotees. 'Mangal Arati' at 4.15 am, begins the day's activities at this holy shrine. Thereafter, 'Mantra Meditation' begins at 5.15 am, followed by 'Sringar Arati' at 7.15 am. Next scheduled activity of the day is 'Bhagavatam Class' at 8.00 am. The 'darshan' period for the morning session is closed at 12.45 pm. The doors of the temple are reopened for the day at 4.15 pm. 'Sandhya Arati' is performed at 6.15 pm, followed by 'Gita Class' at 7.30 pm. The day's 'darshan' period is permitted till 8.30 pm.
After the COVID-19 pandemic situation, the timings for the devotees to visit the temple has been changed, with new timings being 7:30 am to 12:45 pm, 4:15 pm to 5:30 pm, 7:00 pm to 7:45 pm and 8:10 pm to 8:25 pm.
How to reach ISKCON Temple Bhubaneswar
Commuting to the temple is fairly an easy affair since it is situated in the IRC Village, Nayapalli area, a prominent location in the city. Private taxis and auto-rickshaws can be availed from the airport, railway station and main bus stand or any part of the city to reach here within a few minutes. You can even book a private cab from top car rental companies in Bhubaneswar to reach the temple and visit other top sightseeing places of Bhubaneswar.
The distance between ISKCON Temple Bhubaneswar and Biju Patnaik International Airport is about 7 km. Auto-rickshaws and pre-paid taxis are easily available from the airport. It takes around 12-15 minutes to reach from the airport to the temple. The Bhubaneswar Railway Station is approximately 15 minutes away from IRC Village, Nayapalli. Tourists can exit the station and head towards the Master Canteen chowk to avail taxis and auto-rickshaws to reach here. Another alternative is to catch a 'Mo Bus', local transport bus service, to reach this place easily.
Things to keep in mind while visiting ISKCON Bhubaneswar
Wearing conservative clothes inside the campus is advised.
Following are the guidelines mentioned by the temple authorities with regard to COVID protocols:
Carry final vaccination certificate or COVID negative certificate.
Social distancing and wearing facial masks are compulsory.
There is prohibition of spitting in the campus, except at sinks and toilets.
Persons with Severe Acute Respiratory Infections (SARI) or Influenza-like Illness (ILI) like symptoms will not be permitted inside the campus.
Children below 10 years, pregnant women, old persons and persons with comorbidities are advised not to come for visit (Bhubaneswar Municipal Corporation (BMC) guidelines.)
Do you want to explore the real beauty of Bhubaneswar? If yes, then book a Bhubaneswar city tour with us and get ready to enjoy your vacation in the most amazing way. We at Bhubaneswar Tourism, a division of Holidays DNA, also offer various all-inclusive Bhubaneswar tour packages that are designed keeping everyone's budget and holiday requirements in mind. You can also customize your holiday package as per your needs and preferences. For more information about our services, please fill out the Contact Us form.
Location Map for ISKCON Temple Bhubaneswar