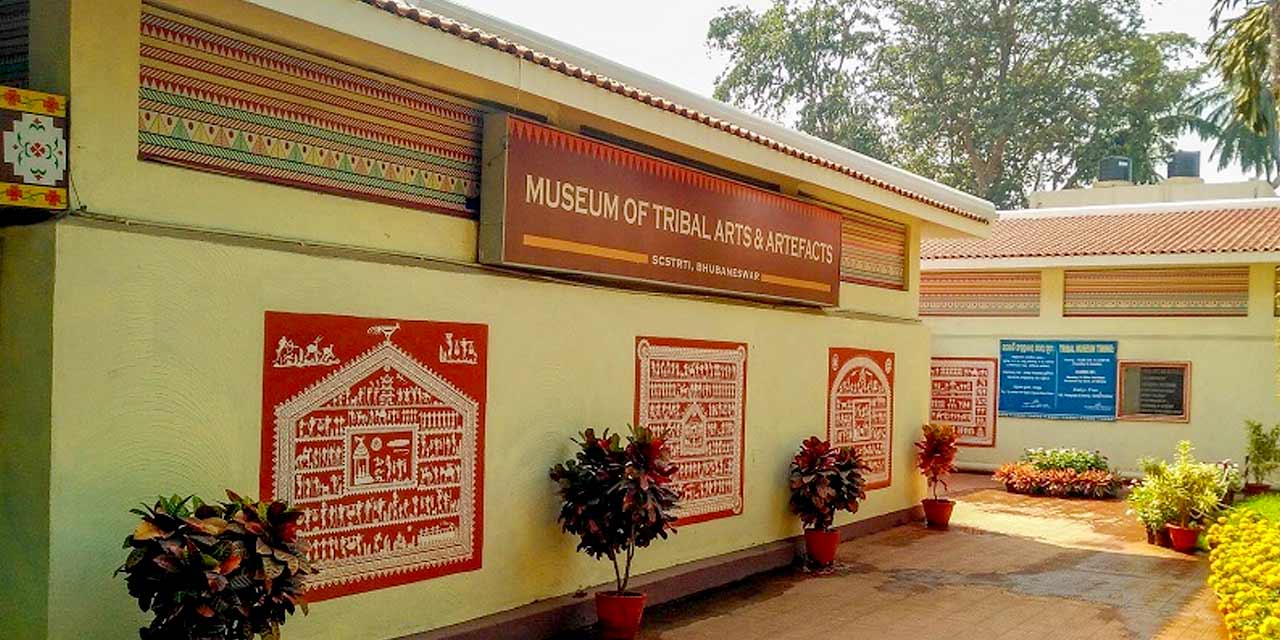 Museum of Tribal Arts & Artifacts Bhubaneswar Entry Fee
Museum of Tribal Arts & Artifacts Bhubaneswar Phone
---
Rating:

| 4/5 stars
Based on total 76 reviews
Museum of Tribal Arts & Artifacts Bhubaneswar Address: Unit - VIII. CRPF Square. Nayapalli CRPF Colony, Nayapalli, Gopabandhu Nagar, Bhubaneswar, Odisha, 751003, India
Bhubaneswar Tour Packages
Museum of Tribal Arts & Artifacts Bhubaneswar Timings
| Day | Timing |
| --- | --- |
| Monday | 10:00 am – 5:00 pm |
| Tuesday | 10:00 am – 5:00 pm |
| Wedesday | 10:00 am – 5:00 pm |
| Thursday | 10:00 am – 5:00 pm |
| Friday | 10:00 am – 5:00 pm |
| Saturday | 10:00 am – 5:00 pm |
| Sunday | 10:00 am – 5:00 pm |
Links:
Website
|
Map
---
Museum of Tribal Arts and Artifacts in Bhubaneswar, which is regarded as the best tribal museum in India, was established in the year 1953. Presently, it is known as the 'Odisha State Tribal Museum'. The museum beautifully showcases the life and culture of over 60 tribal communities from the state of Odisha. Its primary role, as a center of anthropological knowledge, is to impart information on the diversity of the cultural, social and religious aspects of these tribe communities.
Maintained on a day-to-day basis by the Scheduled Castes & Scheduled Tribes Research and Training Institute (SCSTRTI), a wing of the Government of Odisha, this place is also called the 'Museum of Man'. Several workshops, training programs and seminars are conducted regularly in the museum for development of these communities and conservation of their indigenous culture.
The museum has on display various exhibits including ornaments, costumes, weapons, musical instruments, household objects, agricultural tools and art and crafts that have been collected from the tribal communities. It also houses perfect replicas of tribal dwellings, and gives a deep insight into the various stages of evolution of these tribe communities over time. The museum complex has five main galleries, where more than 2,247 artifacts have been put on exhibit; an outdoor exhibition area, where tribal huts and shrines have been recreated; herbal garden; special Particularly Vulnerable Tribal Groups (PVTG) Gallery; tribal food court; library and souvenir shop.
On a tour to the Bhubaneswar city, this is one the popular attractions that tourists should definitely visit as it gives a sneak peek into the lives and culture of the tribal people, and how they lived and are still living in the remotest areas of the state of Odisha.
History of Museum of Tribal Arts and Artifacts Bhubaneswar
Established in 1953, the museum had humble beginnings; all the collected artifacts initially were put on display in a single hall. In 1986, the SCSTRTI constructed five tribal huts in its premises and displayed the exhibits collected till then, inside them. In March 2001, the present building was inaugurated inside the campus of the SCSTRTI. Today, the museum is an integral part of the institute, showcasing the cultural amalgamation of the tribes of Odisha.
As part of its initiative to develop these communities, the museum authorities organize two fairs and a dance festival in the campus during different months of the year:
1. National Tribal Crafts Mela: This national level fair is conducted in collaboration with several agencies that help tribal artisans from across the country to display and sell their art and crafts to customers directly. The fair, which is conducted in the 3rd week of November, also becomes an opportunity for these artisans to interact with their peers and also understand the modern demands of the customers.
2. Adivasi Mela: This state level fair, which is held in the month of January-February, brings together various tribal communities of Odisha to showcase their rich art and crafts, indigenous delicacies, agricultural produce, and their lively music and dance.
3. National Tribal Dance Festival: This is another national level event held at this place, where dance troupes from across the state and the country come together to celebrate tribal culture, dance and music. This event is organized with a joint collaboration of the ST & SC Development Department, Government of Odisha, IGRMS, Bhopal, Madhya Pradesh and Ministry of Tribal Affairs, Government of India, New Delhi.
Image Gallery of Museum of Tribal Arts & Artifacts Bhubaneswar
Architecture of Museum of Tribal Arts and Artifacts Bhubaneswar
Each of the galleries and outdoor sections in the museum hold great value, showcasing artifacts and also display information that is well researched and documented, on the lives of the tribal people of Odisha.
1. Gallery 1 - Personal Adornment: This gallery is dedicated to the traditional attire and ornaments of the tribal people that includes intricately crafted necklaces, earrings, bangles, hairpins and waistbands.
2. Gallery 2 - Personal Belongings, Art and Crafts & Textiles: In this gallery, the items on exhibit demonstrate the skilled craftsmanship of the tribes that include handcrafted smoking pipes, combs and purses as well as paintings, paddy and bamboo crafts. It also features hand-woven textiles of communities such as Dharua, Munda, Bonda, Kandha and Santal.
3. Gallery 3 - Weapons, Fishing and Hunting Tools: This gallery has on display tribal weapons including knives, spears, bows, arrows, axes, swords and guns. It also exhibits fishing and hunting tools such as snares, catapults, traps, fishing and animal traps, and fishing nets. While some of these tools are used for self defense and clearing of forests, the rest are used for hunting purposes.
4. Gallery 4 - Agricultural Equipment and Household Objects: Rudimentary tools used for cultivation, along with household objects find place in this gallery. Plows, digging sticks, pestles, winnows, levelers and straw collectors are some of the agricultural equipment on display. On the other, the household items that are on exhibit in the gallery include knives, cooking utensils, carrying poles, slings, cowbells, and other utilities for pressing oil, twisting rope and getting shelter from rain. There are a few utensils and containers on display that are made of dried gourd.
5. Gallery 5 – Dance & Musical Instruments and Dhokra Figurines: Music and dance are an important cultural element of the people from the tribal communities, and this aspect of their culture can be witnessed in this gallery, where a collection of musical and dance instruments are displayed. Dancing costumes for festive occasions, along with large drums, percussion and string instruments, friction blocks, Jews harps and shakers have been exhibited in this section. Some of the other musical instruments on display are cymbals, horn and brass trumpets, tambourines, drums and clappers.
There is a superb collection of Dhokra figurines in this section. These figurines, which have been made using an old process of wax casting, serve decorative and ritual purposes, and these include animals, insects, birds and humans.
6. Courtyard: Each tribal community has its own gods and goddesses; praying to them and honoring the spirits of their ancestors is an integral part of their culture. This aspect of their lives has been beautifully recreated in the museum by building 14 tribal shrines in the courtyard.
7. Special PVTG Gallery: There is a special gallery in the museum that is completely dedicated to the 13 Particularly Vulnerable Tribal Groups in Odisha including Lodha, Dongria Kandha, Chutkia Bhunjia, Bonda, Juang, Mankirdia, Saora, Didayi, Kutia Kandha, Paudi Bhuinya, Lanjia Saora and Hill Kharia. Visitors are introduced to the life and culture of these communities through interactive kiosks and dioramas.
8. Tribal Huts: The tribal huts recreated in the museum are awe inspiring. These huts have a traditional setting with different areas demarcated for praying, living, cooking and dining, along with separate pigsty and cow shed. These huts also have a collection of household items, hunting and agricultural tools inside them. There are seven such dwellings that belong to the tribes including Gond, Gadaba, Santal, Chutkia Bhunjia, Juang, Kandha and Saora.
9. Herbal Garden: The campus also has an herbal garden consisting of more than 300 medicinal plants to showcase the biodiversity of the state. The garden aids in imparting visitors with the indigenous knowledge and eco-friendly agricultural and medicinal remedies of the tribal communities.
10. Souvenir Shop: In the souvenir shop, a range of tribal textiles, handicrafts and organic produce can be purchased. Also, available for sale are the works produced during the live demonstration programs held twice in a month in the museum to promote art forms of the tribal people of Odisha.
Things to do in Museum of Tribal Arts and Artifacts, Bhubaneswar, Odisha
Tourists will find coming to the Museum of Tribal Arts and Artifacts to be an excellent decision as there is so much to explore and learn about the tribal natives of Odisha. Walking through the galleries and the outdoor exhibition areas, especially the huts will be a wonderful experience, and so would be strolling in the herbal garden and trying out tribal delicacies at the in-house food court.
In addition to this unique museum, tourists can head to some of the other popular attractions of the city including ancient temples, historical sites, amusement parks and more such exciting museums. Trying out local delicacies at the famous food joints and avenues should also be on the top things to do in Bhubaneswar.
Museum of Tribal Arts and Artifacts Bhubaneswar Entry fee and Timings
There is no entry fee to visit the Museum of Tribal Arts and Artifacts . The museum remains open on all days of the week from 10 to 5 pm. It remains closed only on State Government holidays.
How to reach Museum of Tribal Arts and Artifacts in Bhubaneswar
The Museum of Tribal Arts and Artifacts is located at a prime area of Bhubaneswar and hence is easily reachable from any part of the city by availing auto rickshaws, private taxis and local bus service. The Biju Patnaik International Airport is situated at a distance of approximately 6.1 km from this museum, and it takes about 15 minutes to reach here.
On the other hand, the Bhubaneswar Railway Station is about 5.2 km away, and the distance between it and the museum can be covered in about 13-14 minutes. Those tourists coming to the city by bus can get down at the Baramunda ISBT Bus Stand and can take any local transport service till the museum. The bus stand is only about 2.7 km away.
Tourists from different cities of the country, planning to visit Bhubaneswar, can reach here without much hassle as it is well connected by air, rail and road. Regular flights, trains and buses connect it to the rest of the country, on a daily basis. We have also curated a list of top car rental companies in Bhubaneswar so that you can visit all the popular sightseeing places of Bhubaneswar comfortably.
Things to keep in mind while visiting Museum of Tribal Arts and Artifacts Bhubaneswar
The museum has a wheelchair accessible entrance, car parking and toilets.
Vehicle parking facility is free of cost.
There is a tribal food court inside the premises.
There is a restroom, drinking water and locker facility available in the campus.
---
Bhubaneswar Tourism, a division of Holidays DNA offers a range of flexible and tailor-made holidays to suit your time, budget and interests. From luxurious all-inclusive breaks, to action-packed itineraries exploring the city's sights and sounds, we can help you plan an unforgettable Bhubaneswar holiday. With our insider knowledge and first-hand experience, we can recommend the best hotels, experiences and ways to get around. To know more about the Bhubabeswar tour packages offered by us, please fill the Contact Us form.
Location Map for Museum of Tribal Arts & Artifacts Bhubaneswar