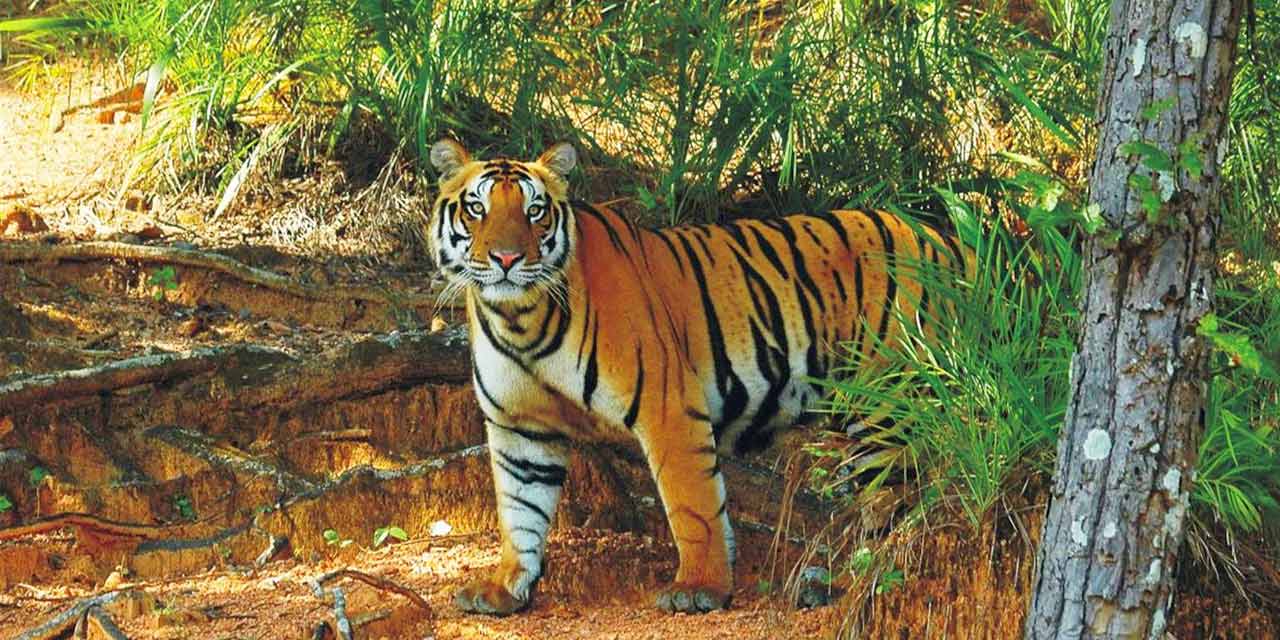 Satkosia Tiger Reserve Bhubaneswar Phone
---
Rating:

| 4/5 stars
Based on total 49 reviews
Satkosia Tiger Reserve Bhubaneswar Address: Badmula, Nayagarh, Bhubaneswar, Odisha, 752084, India
Bhubaneswar Tour Packages
Satkosia Tiger Reserve Bhubaneswar Timings
| Day | Timing |
| --- | --- |
| Monday | 6:00 am – 6:00 pm |
| Tuesday | 6:00 am – 6:00 pm |
| Wedesday | 6:00 am – 6:00 pm |
| Thursday | 6:00 am – 6:00 pm |
| Friday | 6:00 am – 6:00 pm |
| Saturday | 6:00 am – 6:00 pm |
| Sunday | 6:00 am – 6:00 pm |
Links:
Website
|
Map
---
Satkosia Tiger Reserve Bhubaneswar Entry Fee
Person/Day
Fee(in Rs.)
Documents required for issue of Entry Permit

or

Driving License of vehicle

or

Passport (For Foreigners only)


Entry permits are issued at the following places

Pampasar
Chhamundia
Kusanga

1) Indian Citizens
20
i) A group of 20 or more@ per person
10
2) Foreign nationals
1000
i) A group of 10 or more@ per person
200
3) Students
20
i) A group of 10 or more@ per student
10
4) For conducting scientific research :
i) Indian
ii) Foreign national
30
450
5) Children below three years
Free
6) Physical handicapped
Free
7) Jeep/Car/LMV per day
Rs.5.00 per vehicle per day
8) HMV /2-wheelers
Not allowed
---
Situated in the heartland of Odisha, Satkosia Tiger Reserve is spread over four districts, including Nayagarh, Cuttack, Angul and Boudh. This tiger reserve comprises two adjoining sanctuaries, namely Baisipalli Sanctuary and Satkosia Gorge Sanctuary. Maintained by the Forest and Environment Department of the Government of Odisha, the area was declared as a wildlife sanctuary in 1976.
The name 'Satkosia' originates from the word 'Sat Kos' – 'Sat' meaning seven and 'Kos' meaning two miles, which apparently indicates the 14 miles length of the gorge of River Mahanadi that crosses this wildlife region. India's two bio-geographic regions – the Eastern Ghats and the Deccan Peninsula also converge at Satkosia, contributing to its vast biodiversity.
The Satkosia Tiger Reserve is home to diverse flora and fauna, and enchanting scenic beauty that draw tourists from far and wide. Besides the opportunity to spot wild animals in their natural habitat, visitors to this tiger reserve can choose to stay at the nature camps and enjoy the tranquility this region has to offer.
History of Satkosia Tiger Reserve
The Satkosia Tiger Reserve, which was declared as a tiger reserve in 2001, has a hilly terrain with narrow gorges and steep to moderate slopes. The average elevation of the terrain varies between 37 m to 932 m, with the lowest point being at Katrang and highest point being at Sunakhania.
Its flora consists of Sal trees of moist peninsular low level and tropical moist deciduous forests, along with old teak plantations. There are more than 98 shrubs, 126 trees, 561 climbers and 125 herb species in the tiger reserve.
On the other hand, the faunal diversity of the reserve includes the population of tiger, sloth bear, sambar, spotted deer, elephant, leopard, giant squirrel, porcupine, barking deer and chowsingha. Freshwater crocodile and gharial are two endangered reptile species, whose natural habitat is the Satkosia gorge. It is home to more than 38 mammal species, 27 types of reptiles, 161 species of birds and about 183 fish species.
The Forest Department of the Government of Odisha with the technical assistance from the Food and Agriculture Organization (FAO) and United Nations Development Programme (UNDP) began breeding crocodiles in this region. A year later, in March 1975, the Gharial Research and Conservation Unit (GRACU) was started here. The activities of GRACU include breeding and conservation of crocodiles and rehabilitation and releasing of reared crocodiles into their natural habitat. The unit has done praiseworthy work of crocodile conservation in the country.
Satkosia Gorge Sanctuary: The Satkosia Gorge Sanctuary, which is stretched over an area of 795 sq km, is home to rare fresh turtles like Trionyx and Chitra indica; mugger crocodiles and gharials. The Mahanadi River cuts across the Eastern Ghats at this sanctuary, forming a 14 miles long gorge. Hence, it is called Satkosia in the local language.
Baisipalli Sanctuary: The Baisipalli Sanctuary, declared as a sanctuary in 1981, lies close to the Satkosia Gorge Sanctuary. Spread over an approximate area of 168 km, this sanctuary gets its name from the 22 settlements within its area. Its hilly terrain dominated by Sal forests is home to elephants, leopards, tigers and chousinghas, beside reptile species such as King cobra and python.
The Baisipalli Sanctuary is a part of the Eastern Ghat sub-division, the Eastern Plateau province and the Deccan Peninsula Biogeographic Zone. In the outskirts of the sanctuary lies a Deer Park at Kuanria, where visitors indulge in educational and recreational activities.
Image Gallery of Satkosia Tiger Reserve Bhubaneswar
Things to do at Satkosia Tiger Reserve in Odisha
There are plenty of areas to explore in the Satkosia Tiger Reserve, and these areas have been divided into the northern side and the southern side. Under the northern side, areas to visit include Tikarpada, Purunakote and Chhotkei. On the southern side, the areas to explore include Badamul, Kuanria and Sapapathar. Camps and accommodation facilities are available at some of these places, but to stay at these camps, prior permission is required. Also, these are mostly paid facilities. Staying in these camps, especially overnight, can be truly fulfilling. This could be an ultimate thrilling experience for the wildlife and adventure lovers.
Northern Side
Tikarpada: In Tikarpada, visitors get a chance to enjoy the natural vistas of the reserve. The sight of the Mahanadi River at this site is simply thrilling. With due permission, boating can be enjoyed in some parts of the river. A boat ride amidst the grand gorge and high mountains on both sides feels straight out of an adventure movie. Crocodiles basking on the sand banks of the river are usually sighted.
There is a Nature Interpretation Center at this place, where tourists can spend quality time learning about the beauty of nature at the reserve. Besides this, they can head to the GRACU to gain knowledge about the Gharial crocodiles that can be found in this sanctuary. Going on a natural trail at Tikarpada for bird watching and discovering the wilderness can be pretty exciting. To do so, visitors need to contact the Divisional Forest Officer (DFO), Satkosia Wildlife Division.
The nature camp at Tikarpada offers a wonderful overnight camping experience. Each camp features double bedded tents with running water and toilet facility, in addition to catering and security arrangements.
Purunakote: Purunakote is a camp, where visitors can spot herds of Chital, sambars, giant squirrels and indigenous hill mynas. Managed by an eco-tourism group, the camp offers facilities like campfire, nature trekking and boating at permissible areas along the Mahanadi River. The camp at Purunakote offers tents and cottages with thatched roofs.
Chhotkei: Chhotkei is a nature camp, operated by an eco-tourism community, located at a distance of 8 km from Purunakote. Scenic vistas of Satkosia's landscape can be enjoyed here. Herds of elephants may be spotted from the camp. Bird watching, trekking and boating along the Mahanadi River are some of the activities that can be indulged in at Chhotkei.
Southern Side
Badamul: The Badamul area is known for its serene natural beauty. The views of the deep blue waters of the Mahanadi River further add to its charm. Boating in the river is one activity that is not to be missed at Badamul; the experience is simply outstanding. Wild animals like sambars, gaurs, hill mynas and giant squirrels can be spotted at this place.
Kuanria: Kuanria is located at the outskirts of the Satkosia Tiger Reserve, approximately at a distance of 40 km from Chhamundia through Baisipalli Sanctuary and Satkosia Gorge Sanctuary, and about 50 km from Nayagarh on the NH towards Bolangir.
There is a deer park as well as an Interpretation Center at Kuanria that can be visited. Alongside the Forest Rest House lies the Kuanria Dam that serves as a paradise for water birds throughout the year. From Kuanria, the Baisipalli Sanctuary can be easily reached and spending time inside it, in the middle of the wild nature can be great fun for the visitors to the Satkosia Tiger Reserve.
There is a Forest Rest House featuring two suites at the place. Prior permission from DFO, Mahanadi Wildlife Division is required for accommodation at this rest house. Food facility is not available at this place.
Sapapathar: Sapapathar is an enormous rock bed of black granite, located amidst the wilderness of the Baisipalli Sanctuary. Visitors can visit this part of the sanctuary through a nature rail, and enjoy the vistas of the untouched forests along the way. However, they need to be wary of the fact that wild animals such as wild boars, elephants, jungle fowls, leopards, etc. are spotted in this area.
Chhamundia: There is a Forest Rest House having two suites at Chhamundia. It is under the control of the DFO, Mahanadi Wildlife Division. Visitors to the reserve need to take prior permission from the DFO for a stay at the forest house. No catering facility is available at the rest house.
Satkosia Tiger Reserve Entry Fee and Timings
All visitors are required to obtain prior permission to enter into the Satkosia Tiger Reserve. These permissions can be obtained at tourist counters at Pampasar, Kusanga and Chhamundia by paying the requisite fees. Documents that are required for issue of entry permit for Indian nationals include Photo ID Card / PAN card / Driving License while for foreigners, their Passport details are required.
The timings of Satkosia Tiger Reserve are 6 am to 6 pm.
The entry fee for each person on a per day basis for Indian citizens is Rs. 20 while for a group of 20 or more people, it is Rs. 10 per person. On the other hand, the per person per-day fee for foreign nationals is Rs. 1000 and for a group of 10 or more, it is Rs. 200 per person.
For students, the entry fee is Rs. 20, while if students come in a group of 10 or more, then the fee is Rs. 10 per student. Indian nationals visiting the reserve for scientific research need to pay Rs. 30 per person per day while for the same purpose, the fee for foreign nationals is Rs. 450.
There is no entry fee for persons with physical disability and children below three years.
Entry fee for car, jeep and other LMV into the reserve is Rs. 5 per vehicle per day while two-wheelers and HMV are not permitted for entry.
Besides the entry fee, other fees that visitors to the Satkosia Tiger Reserve need to pay, include:
Trekking/Nature Trail – Rs. 20 per head per day for Indian nationals and Rs. 100 per head per day for foreign nationals
Amateur Camera – Rs. 20 per camera for first 3 days and Rs. 10 thereafter for Indian nationals and Rs. 100 per camera for first 3 days and Rs. 40 thereafter for foreign nationals
Professional Camera – Rs. 50 per camera per day for India nationals and Rs. 400 per camera per day for foreign nationals
Video Camera (Amateur) small than 35 mm - Rs. 200 per camera per day for India nationals and Rs. 1000 per camera per day for foreign nationals
Video Camera (Professional) - Rs. 1000 per camera per day for India nationals and Rs. 10,000 per camera per day for foreign nationals
How to Reach Satkosia Tiger Reserve
The Satkosia Tiger Reserve is located at an approximate distance of 162 km from the city of Bhubaneswar. It takes about 3 hours to reach the reserve from Bhubaneswar by booking a private cab from top car rental companies in Bhubaneswar, which is a more convenient and comfortable option.
Reaching Bhubaneswar is quite easy as it is connected to major cities of the country by air, rail and road. Those coming by air can book their tickets to the Biju Patnaik International Airport while those coming by train can book their tickets till Bhubaneswar Railway Station. The Inter-state bus terminal in the city is the Baramunda Bus Stand, where buses from nearby states ply on a regular basis.
Things to keep in mind while visiting Satkosia Tiger Reserve
Visitors need to give an undertaking before entering the tiger reserve stating that they will abide by the rules and regulations in force. Violating these rules and regulations will lead to strict punishment.
Entry of tourist vehicles is only allowed at the Pampasar, Kusanga and Chhamundia gates.
Vehicles or visitors along with their belongings may be subject to check by forest personnel at all entry and exit gates.
Any vehicle found violating the set rules and regulations for the second instance will be barred from entering into the reserve henceforth.
All visitors should vacate the Tikarpada area positively by 5:00 pm.
All tourists visiting the reserve for a day should exit from the reserve's gate by 6:00 pm of the same day.
Only those visitors with confirmed reservation will be allowed to stay inside the reserve at the camps at Tikarpada, Chhotkei, Purunakote and Tarava.
Only a limited number of vehicles are allowed entry into the reserve per day at Pampasar (24), Chhamundia (10) and Kusanga (6).
Visitors may be allowed to stay at Kuanria and Chhamundia subject to confirmed reservation sought from the Divisional Forest Officer Mahanadi Wildlife Division, Nayagarh.
---
For an ultimate tourist experience in Bhubaneswar, book a Bhubaneswar tour package with us now. We at Bhubaneswar Tourism, a division of Holidays DNA, have designed all-inclusive tour packages that are not only pocket-friendly but also help you cover most of the popular tourist attractions in Bhubaneswar. You can also customize your package and add or remove some places as per your convenience. So, what are you waiting for? Contact us now to book your tour package. Don't forget to check our amazing travel deals and discounts as well.
Location Map for Satkosia Tiger Reserve Bhubaneswar