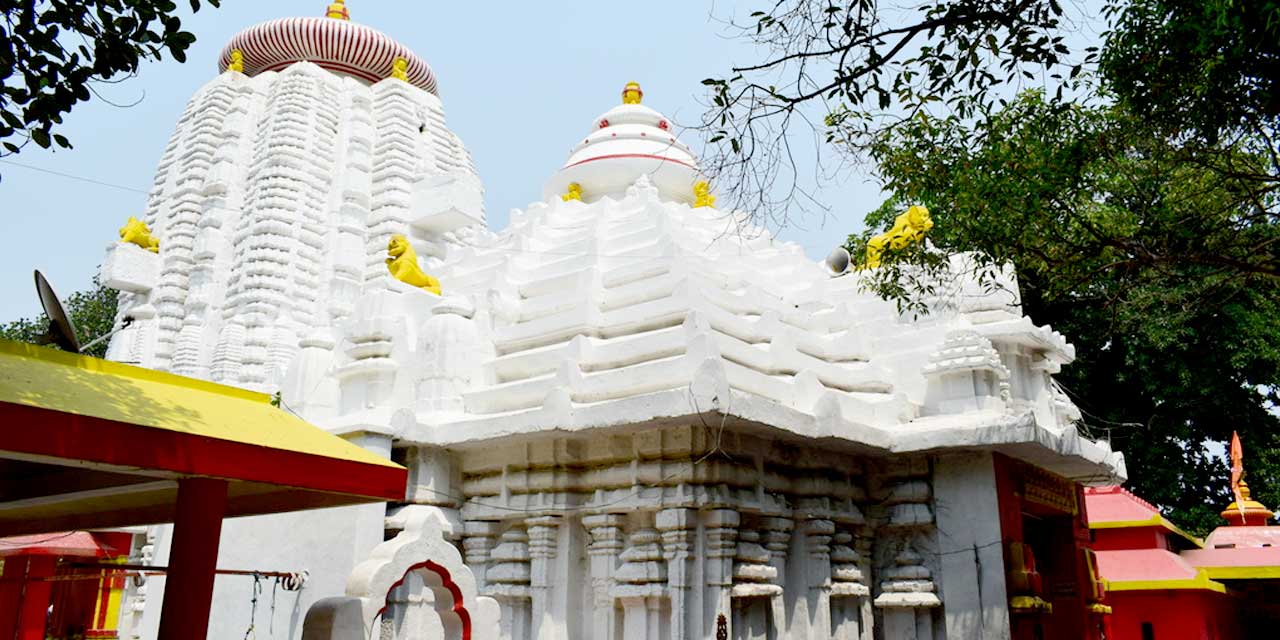 Kedargauri Temple Bhubaneswar Entry Fee
Kedargauri Temple Bhubaneswar Phone
N/A
---
Rating:

| 4/5 stars
Based on total 43 reviews
Kedargauri Temple Bhubaneswar Address: Near Bindu Sagar Pond, Old Town, Bhubaneswar, Odisha, 751002, India
Bhubaneswar Tour Packages
Kedargauri Temple Bhubaneswar Timings
| Day | Timing |
| --- | --- |
| Monday | 6:30 am – 8:00 pm |
| Tuesday | 6:30 am – 8:00 pm |
| Wedesday | 6:30 am – 8:00 pm |
| Thursday | 6:30 am – 8:00 pm |
| Friday | 6:30 am – 8:00 pm |
| Saturday | 6:30 am – 8:00 pm |
| Sunday | 6:30 am – 8:00 pm |
Links:
Website
|
Map
---
Kedargauri Temple (or Kedar Gouri Temple) is among the known ancient temples of Odisha, located near the famous Mukteswara Temple in Bhubaneswar. It is believed to be one of the eight Astasambhu shrines in the city. The presiding deity worshiped at the temple is Lord Shiva, who is also locally known as Kedareshwar.
The complex includes two main temples: Kedar Temple that houses a Shivalinga and another one is the Gauri Temple that houses the idol of Goddess Parvati (consort of Lord Shiva). Apart from these, there are three small temples of Lord Hanuman, Lord Ganesha and Goddess Durga inside the premises.
The temple premises also has two kunds (ponds) - Khira Kund and Marichi Kund. It is said that the water of these kunds have sacred powers. The water of Khira Kund heals man from the cycle of birth and death. On the other hand, it is believed that if a woman takes a dip in Marichi Kund, she is cured from sterility.
According to the legends, the temple was built by King Lalatendu Keshari in memory of two lovers, named Kedar and Gauri. Another story suggests that Lord Shiva with Goddess Parvati came to this place from Varanasi seeking peace and serenity. The temple was built in their devotion.
History of Kedargauri Temple Bhubaneswar
There are a few myths related to the construction of the Kedar Gauri Temple. One is that a couple named Kedar and Gauri were in love and wanted to marry each other. However, people from their village were against their decision and as a result, they fled away and found shelter in this place, where the temple stands now.
When Gauri felt hungry after the long journey, Kedar went in search of food but was killed by a tiger. On learning about his death, Gauri jumped into the pond and died. It is believed after listening to this tragic story, King Lalatendu Keshari built this temple as a tribute to the lovers. Thus, today many couples visit the shrine to seek blessings for their blissful married life.
Another myth is that in search of peace and silence, Lord Shiva along with his consort, Goddess Parvati came to this place from Varanasi and settled here. Hence, this temple was constructed in dedication to these deities.
One festival celebrated with much fervor at Kedargauri Temple is Sital Sasthi. This festival celebrates the divine marriage of Lord Shiva and Goddess Parvati. It is celebrated every year in the month of May or June. On this day, a procession of Lord Shiva is carried out from the Lingaraj Temple till Kedargauri Temple, where his marriage with Goddess Parvati is conducted with rituals.
Apart from Sital Sasthi, other festivals like Shivaratri, Ganesha Chaturthi, Nag Panchami and Hanuman Jayanti are celebrated in the temple.
Architecture of Kedargauri Temple Bhubaneswar
The Kedargauri Temple has two shrines - one is the Kedar Temple and another is the Gauri Temple. The temple is built in Kalinga Buddhist architecture style. The Kedar Temple architectural type is similar to the Siddheshwar Temple that lies in the complex of Mukteswara Temple.
This shrine is a Dakshin Mukhi temple and houses a Shivalinga. Its outer wall is surrounded by the statues of Goddess Parvati, Lord Ganesha and Lord Kartikeya. On the other hand, the outer walls of the Gauri Temple are intricately carved with beautiful images. The height of the Kedargauri Temple is 13.7 meter.
Image Gallery of Kedargauri Temple Bhubaneswar
Things to do in Kedargauri Temple Bhubaneswar
Besides offering prayers at the shrine, visitors can explore the beautiful architecture of the temple. There is a beautiful garden in the complex, where visitors can sit and relax.
The temple lies in proximity to some of the most famous attractions of the city including the Mukteswara Temple and Lingaraj Temple that lie about 1.1 km away while Bindu Sagar and Ananta Vasudeva Temple are located only a few meters away. Visiting these holy places should be on the list of best places to visit in Bhubaneswar.
Kedargauri Temple Bhubaneswar Timings and Entry fee
There is no entry fee to visit the Bhubaneswar Kedargauri Temple. Devotees can enter the temple as early as 6:30 am. The closing time of the shrine is 8:00 pm. It remains open on all the days of a week.
How to reach Kedargauri Temple Bhubaneswar
Since the temple is located in one of the main locations of Bhubaneswar, it can be easily reached from the bus stand, railway station, airport and other parts of the city. The Bhubaneswar Railway Station is the main station of the city and receives trains from across the country, on a daily basis. There is regular availability of local buses, private taxis and auto rickshaws in Bhubaneswar. Hence, commuting to this temple should not be a hassle.
The distance between the Kedargauri Temple and the Bhubaneswar Railway Station is approximately 4 km. It takes about 14 minutes to reach the shrine by taxi or auto rickshaw. From the Biju Patnaik International Airport, the distance is about 3.7 km, and it can be easily covered in approximately 12 minutes by availing an auto rickshaw or private taxi from top car rental companies in Bhubaneswar.
Things to keep in mind while visiting to Bhubaneswar Kedargauri Temple
Footwear should be kept at the designated place outside the shrine.
Photography is not allowed inside the temple.
Basic services like sitting benches, washroom and parking facility are available in the premises.
Puja items can be purchased from shops located outside the temple.
---
Looking for an all-inclusive Bhubaneswar tour package? Then, you have come to the right place. At Bhubaneswar Tourism, a division of Holidays DNA, we design and customize tour packages that suit your budget and holiday style. We also offer the best travel deals to our loyal customers. So, what are you waiting for? Contact us now to know more about our Bhubaneswar tour packages.
Location Map for Kedargauri Temple Bhubaneswar