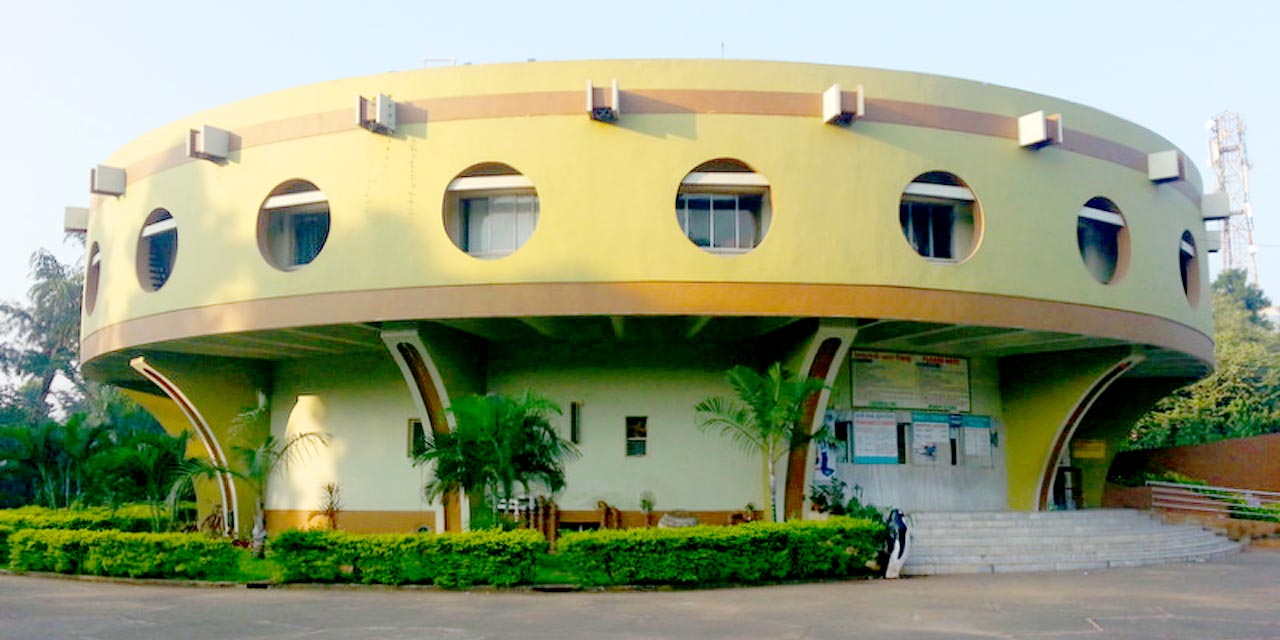 Pathani Samanta Planetarium Bhubaneswar Entry Fee
30 per person for Adults
20 per person for Children
Pathani Samanta Planetarium Bhubaneswar Phone
---
Rating:

| 4/5 stars
Based on total 45 reviews
Pathani Samanta Planetarium Bhubaneswar Address: Appolo Hospital, Acharya Vihar, Doordarshan Colony, Gajapati Nagar, Bhubaneswar, Odisha, 751015, India
Bhubaneswar Tour Packages
Pathani Samanta Planetarium Bhubaneswar Timings
| Day | Timing |
| --- | --- |
| Monday | Closed / Holiday |
| Tuesday | 2:00 pm – 6:00 pm |
| Wedesday | 2:00 pm – 6:00 pm |
| Thursday | 2:00 pm – 6:00 pm |
| Friday | 2:00 pm – 6:00 pm |
| Saturday | 2:00 pm – 6:00 pm |
| Sunday | 2:00 pm – 6:00 pm |
Show Timings:
Oriya: 2:00 pm & 5:00 pm
Hindi: 3:00 pm
English: 4:00 pm
Links:
Website
|
Map
---
Named after a famous Indian astronomer - Pathani Samanta, the Pathani Samanta Planetarium is one of the most sought-after tourist attractions in the city of Bhubaneswar, the capital of the state of Odisha. Spread over an area of 5 acres, this one-of-its-kind planetarium in India conducts regular shows based on Space Science, Astrophysics and Astronomy for the student community and the general public to create awareness about the physical concept of the celestial bodies of the universe.
The museum, through display of various astronomical devices, audio visual programs, poster show and night sky view activity, provides an understanding of these celestial bodies and how they are positioned in space. It also organizes 'Sky Watch' programs during lunar eclipse, solar eclipse and other special celestial events.
Every day, the planetarium shows for 30 to 40 minutes each are played at different scheduled times in three languages – English, Hindi and Odia. The names of the planetarium shows are 'The Secrets of Sun', 'The Mysteries of Night Sky' and 'The Wonders of the Universe'.
To continue their objective of creating awareness about space science, the planetarium authorities also conduct debate, essay and quiz competitions among students of various schools of the city, throughout the year. It is estimated that the planetarium receives more than 1.5 lakh visitors across the year.
History of Pathani Samanta Planetarium Bhubaneswar
This planetarium is dedicated to the famous astronomer from Odisha - Mahamahopadhyaya Chandrasekhar Singh Harichandan Mohapatra Samanta, who is popularly called Pathani Samanta. He was known for his astronomical studies using traditional methods. Pathani Samanta had built prudent instruments using simple objects like bamboo pipes to keenly observe the planetary movements and calculate the distance between each.
Without modern day astronomical aids like telescopes, he was not only able to collect information about the movements of planets and stars but also formulate various complex astronomical calculations using that data. He documented most of his research work in his book called 'Siddhanta Darpana'. Written in Sanskrit, this book was highly appreciated in the American and European press in 1899, and as a result, it made him an important figure in India with regard to astronomy.
The construction work of the planetarium began in 1986, under the aegis of the Science and Technology Department, Odisha Government; and in 1990, it was opened to the public. Initially, an opto-mechanical system was in place to run the shows; however, after 2012, all shows are being run on a fully digital platform using modern digital equipment that have enhanced the viewing experience manifold with 3D-motion effects.
Since 2007, the Pathani Samanta Planetarium has been organizing a talent search program called 'Young Astronomer Talent Search' (YATS) in collaboration with TATA STEEL. Under this program, higher secondary school students from across the state participate in an essay competition based on Space Science, Astrophysics and Astronomy. The top 20 students are felicitated by the Chief Minister of Odisha in a state level exhibition, held at the planetarium in the month of December. These young aspiring astronomers also get a chance to visit top space organizations of the country the following year, free of cost.
Image Gallery of Pathani Samanta Planetarium Bhubaneswar
Architecture of Pathani Samanta Planetarium Bhubaneswar
The architecture of the planetarium is praise worthy, featuring a round building with a dome shaped top. The fully air-conditioned auditorium inside the planetarium, where the shows are displayed, has a capacity of accommodating 178 persons at a time. There is an astronomy park in the campus, where a sitting statue of Pathani Samanta can be seen and also a sundial. A dedicated place has been kept in the premises to conduct an open-air light and sound program in the evenings. Besides these, there is a canteen, book point, library and a well-maintained lawn on the campus.
Things to do in Pathani Samanta Planetarium, Bhubaneswar, Odisha
The opportunity to explore and gain understanding of the celestial objects of the universe is what the Pathani Samanta Planetarium in Bhubaneswar offers. Visitors to the planetarium will definitely enjoy its shows, and also the model-based thematic display of Sun, Moon, planets and stars. In addition, visitors can spend time in the library on the campus to learn more about astronomy and related subjects. Enthusiasts are encouraged to get close to the sundial and try calculating the time, based on the position of the sun.
Besides this planetarium, there are quite a few similar interesting places to visit, while on a tour of Bhubaneswar. Some of these places are Odisha State Tribal Museum, Regional Museum of Natural History and Odisha State Museum. In addition, tourists can head to some of the historical sites the city is famous for such as Dhauli Giri Hills, Ashokan Rock Edict, Ratnagiri Buddhist Excavation site and Udayagiri and Khandagiri Caves. Also, visiting the various temples of the 'Temple City Bhubaneswar' can be quite an interesting affair.
Pathani Samanta Planetarium Bhubaneswar Entry fee and Timings
The entry fee to visit the Pathani Samanta Planetarium is Rs. 20 for children and Rs. 30 for adults. It remains open from 2 pm to 6 pm, Tuesday through Sunday. On Mondays, it remains closed. The show timings at the planetarium in Odia, Hindi and English languages are scheduled at 2 pm and 5 pm, 3 pm and 4 pm, respectively. Based on prior requests to the authorities, special shows are scheduled from 11.30 am to 1.30 pm. Duration of each of these shows is about 30 to 40 minutes.
How to reach Pathani Samanta Planetarium Bhubaneswar
The Pathani Samanta Planetarium lies at a distance of approximately 5.6 km away from the Biju Patnaik International Airport, and can be reached from the airport in about 10 minutes. On the other hand, it is at an approximate distance of 4.3 km from the Bhubaneswar Railway Station and 5.4 km from the Baramunda ISBT Bus Stand. It takes about 10-12 minutes to reach the planetarium from these two places. To reach the planetarium from the airport, railway station, bus stand or any part of the city, tourists can easily avail private taxis, auto rickshaws and local buses.
Bhubaneswar is well connected to the rest of the country by train, rail and bus services on a daily basis. Hence, traveling to Bhubaneswar is not much of an issue. After reaching Bhubaneswar, you can hire a private taxi from the list of top car rental companies in Bhubaneswar for a hassle free commutation within the city.
Things to keep in mind while visiting Pathani Samanta Planetarium Bhubaneswar
Mobile phones need to be kept in 'silent' or 'switch off' mode in the planetarium.
Touching any of the planetarium equipment is prohibited.
Eatables are not allowed in the planetarium.
Moving around during the show is restricted.
Photography is allowed in the premises.
---
Bhubaneswar Tourism, a division of Holidays DNA can help you plan your perfect trip to Bhubaneswar. We're experts in all things in Bhubaneswar, from the best hotels and restaurants, to the top attractions and activities. We can tailor your holiday to include everything you want to see and do, whether you're looking for a relaxed holiday break or an action-packed city break. We can also help you plan your day-to-day itinerary, so you make the most of your time in Bhubaneswar. Just tell us what you want to see and do, and we'll take care of the rest. Please fill the Contact Us form to know more.
Location Map for Pathani Samanta Planetarium Bhubaneswar